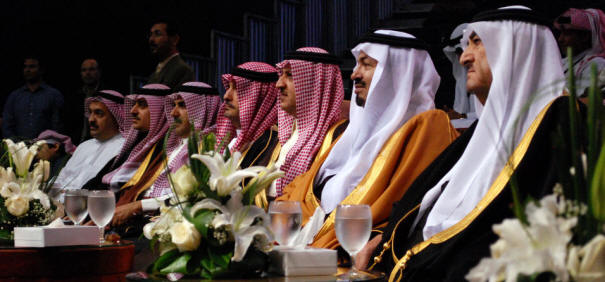 TODAY in Al Khobar: Sun 13th, Round One
Shabana joins injured list
as Kemp ousts LJ ...

Day one of the final Super Series event of 2009 seemed to be progressing pretty much according to plan at Sunset Beach, as 13 matches on the outside courts yielded just one upset result as England's Jonathan Kemp beat 11th seed Laurens Jan Anjema in four games. Other than that the main incident was the effective 'sending off' of fiery Italian Davide Bianchetti at one game all and 10-all against Wael El Hindi.

Dusk saw the glass court come into play as Ramy Ashour, fresh from his victory in the PSA Masters in Mumbai, beat his elder brother Hisham, just as he had done in India, and local wildcard Naif Aburegah gave Peter Barker a decent runout before predictably falling in three games.

The main drama was left to the last match of the day as Amr Shabana, champion here in 2006 and 2007, called it a day at a game and 4-2 down to Joey Barrington, having failed to recover from the hamstring injury he picked up in Mumbai.

So Shabana joins Karim Darwish and Gregory Gaultier - world number one and two and last year's finalists here - on the injured list, leaving the door ajar for the highest remaining seeds Ramy or Nick Matthew to claim the title and with it the coveted world number one position in a few days' time ... but given what's happened so far, don't put any money on anything ...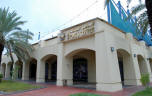 Rainy, Damp, Sunset Beach .... GALLERY
Round One:

[15] Aamir Atlas Khan (Pak) bt [Q] Saurav Ghosal (Ind) 11/5, 11/9, 11/4 (30m)
[8] Adrian Grant (Eng) bt Amr Swelim (Ita) 11/8, 11/5, 11/2 (31m)
[14] Farhan Mehboob (Pak) bt [Q] Stéphane Galifi (Fra) 11/5, 11/0, 11/5 (18m)
[3] Nick Matthew (Eng) bt [Q] Omar Mosaad (Egy) 11/6, 11/2, 8/11, 11/2 (45m)

[9] James Willstrop (Eng) bt Olli Tuominen (Fin) 11/7, 11/5, 11/3 (26m)
Jonathan Kemp (Eng) bt [11] Laurens Jan Anjema (Ned) 11/6, 5/11, 11/7, 11/3 (40m)
[7] Wael El Hindi (Egy) bt [Q] Davide Bianchetti (Ita) 11/4, 10/12, 10/10 CG CM (58m)
[10] Ong Beng Hee (Mas) bt [Q] Aaron Frankcomb (Aus) 11/4, 11/7, 11/6 (31m)

[6] Thierry Lincou (Fra) bt [Q] Ali Anwar Reda (Egy) 9/11, 11/3, 11/6, 5/2 rtd (42m)
[16] Stewart Boswell (Aus) br Tom Richards (Eng) 11/4, 11/9, 11/5 (45m)
[4] David Palmer (Aus) bt Cameron Pilley (Aus) 11/5, 10/12, 3/11, 11/1, 11/3 (54m)
[12] Alister Walker (Eng) bt Daryl Selby (Eng) 11/4, 11/3, 11/7 (31m)
[13] Mohamed El Shorbagy (Egy) bt Steve Coppinger (Rsa) 11/4, 11/2, 11/3 (20m)

[1] Ramy Ashour (Egy) bt Hisham Ashour (Egy) 11/8, 11/5, 11/5 (27m)
[5] Peter Barker (Eng) bt Naif Abureqah (Ksa) 11/6, 11/7, 11/9 (28m)
[Q] Joey Barrington (Eng) bt [2] Amr Shabana (Egy) 11/8, 4/2 rtd (16m)
[8] Adrian Grant (Eng) bt Amr Swelim (Ita)
11/8, 11/5, 11/2 (31m)

AMR NOT ALL THERE…

This won't stay as the best performance from the Italian. He never seemed in the match, although he tried and rally, his shots lacked purpose, he was slow to move, and in front of a powerful Adrian, he never looked like the winner, I'm afraid to say…



"My only tactic for this match, and for all the rallies and all the points during this tournament is focus, focus, focus, focus, and again, focus…

"I've lost so many matches because I let my mind wonder in and out of the game, I've decided that I'm going to keep my focus from now on. If I can achieve that, I think I'll be alright…"



"Well, I didn't think I was going to be playing in this tournament, after Edmonton, as far I was concerned, my season was finished and wouldn't start before another 6 weeks, so I relaxed, didn't do anything, when I heard that I was coming to Saudi (I was a lucky loser).

"So on there, I felt heavy, I didn't feel my shots that well, I was far too relaxed, and he played so well, putting me under a lot of pressure too…


[15] Aamir Atlas Khan (Pak) bt [Q] Saurav Ghosal (Ind)
11/5, 11/9, 11/4 (30m)

SAURAV OUTPLAYED

It was actually painful to see our Saurav struggle so much on there today. I don't think he played the right tactic, trying to match Aamir at the front, where he is so skilled. Saurav's points were won at the back, and I truly believe he should have put Aamir under much more pressure with his accurate length rather than counterattacking systematically at the front.

Still, easier said than done, as Aamir was so explosive today, and felt very comfortable on that court. Saurav never felt relaxed on there it seemed, and his annoyance at the refs, especially at the end of the second game, were probably a reflection of his uneasiness….

"I was very sharp today. I was trying to cover the T, and to make him run because he is so fast. I did my best to keep him under pressure.

"Last time we played, it was in Chennai two years ago for the World Juniors in Chennai, and it was a very tough game that I won 3/2. But today, I think I played better…

"It was a good match today, hopefully I can keep the same level of performance tomorrow…"


[14] Farhan Mehboob (Pak) bt [Q] Stéphane Galifi (Fra)
11/5, 11/0, 11/5 (18m)

NO SHOW FOR GALIF…

"I was just unable to play today, just couldn't! I was trying my best, but I just couldn't play… I'm really disgusted, but end of the year, body's had enough…"

Yes, that's what it felt like, Stéphane, watching you today. You were not on the court, were you… But Farhan was, and 100% of him! The Pakistani was on fire today, and as Galif was not able to push a ball in the back, the confidence was on Farhan's side, from beginning to end…

"I started so good, attacking well, taking the pressure to him and playing my shots to the front well.

"I took a big lead in the second, that was quite easy for me as he stopped trying, then I got another lead in the third and it was the same in the end.

"I played well today but I'll have to play my best tomorrow against Adrian. It's good to have a relaxed 3/0 today, I'll need all my energy tomorrow ..."


[3] Nick Matthew (Eng) bt [Q] Omar Mosaad (Egy)
11/6, 11/2, 8/11, 11/2 (45m)

OMAR SHARP IN THE 3rd…

Nick took Omar by the throat for the first two games, but the legs seemed a bit heavier in the 3rd, and as it coincided with the Egyptian getting used to Nick's fast pace, the English was more or less on the back foot for the whole of that game.

Omar played superbly in that game, he was sharp, positive, retrieved well, and attacked beautifully, but both mentally and physically, I felt that game took a lot out of him. In the 5th, Nick, all focused and roaring again, had no real trouble keeping him at the back, and forced errors out of him to let him win the game as comfortably as he won the second…



"I was perfectly aware that this match had all the elements of a potential banana slip. I played the final only three days ago, so a big high, sometimes, it's difficult to get back into the following tournament, I didn't play on a traditional court for quite a while, and of course, Omar is a young hungry player, who had a good win last week over Wael, and played well against David…

"Peter gave me good advice between the game, it was all about my movement today, I could have felt a bit flat, like when I arrived in Cairo a few weeks ago after the British Open, my legs were just too heavy… But when I dropped my game a bit, he was able to capitalise on his height. The minute I got back into my game, created space with the ball, I was able to come back on top again in the 4th…

"I'm really delighted with this win, even 3/1, I really am…"


[9] James Willstrop (Eng) bt Olli Tuominen (Fin)
11/7, 11/5, 11/3 (26m)

"The rallies were well contested like always with Olli, but I think that my ball placement was good today, and I was able to finish the points rather well…"



"Too much pressure for me today, I just couldn't cope with it, and far too many unforced errors. James was just too good."


Jonathan Kemp (Eng) bt [11] Laurens Jan Anjema (Ned)
11/6, 5/11, 11/7, 11/3 (40m)

LJ A BIT SLOW

I didn't concentrate on the whole match, so I can give you only an impression of it. It was like LJ was outplayed, but mentally more than anything else. Kempy was firing at will as he does, with a sprinkle of length and height, but didn't play out of this world, just patient and disciplined.

LJ found some exquisite short shows that he doesn't play normally, but seemed to lose a bit of his natural game, tight and lengthy accurate drives. I know he is working on changing his squash at the moment, maybe he is in the phase where he doesn't have his new game in place yet, and lost a bit of the old one?

Or more simply, Kempy played an excellent game, in front of a player probably a bit flat from his excellent performance last week…

"What made the win today? I really don't know!!! I knew it was going to be tough, last time we played was a hard 3/2, but I had beaten him before, and I knew that I could do it, and also how to do it.

"I just stuck to my game plan, apart from in the second. Simple, really, just stay patient – everybody knows I've got a tendency to go for too much sometimes – and play a sensible good squash…

"I'm really happy with this win, especially as LJ has been playing extremely well recently, and got his best ever result last week in Mumbai, reaching his first quarters of a platinum event…"


[7] Wael El Hindi (Egy) bt [Q] Davide Bianchetti (Ita)
11/4, 10/12, 10/10 CG CM (58m)

WHAT TO SAY ON THAT ONE…

I'm really speechless.

This was a typical match where I'm afraid the 3 refs system – which I'm in favour of – showed its weakness.

A World ref, surrounded by two local refs, one actually doing an acceptable job, and the other one with it seemed very little experience of squash at that level. With Wael and Davide, famous worldwide to be not the easiest players to ref – and there again, I absolutely adore both of them.

The result, very little consistency in the decisions, players losing confidence, and the plot at time too. I'm afraid I'm too close to the players to be able to blame them on that one.

Yes, there was abuse of language, yes, both players were discussing decisions, with Davide out of order vocally probably, and at the end of the third, 10/10, a conduct game against Davide – he already had conduct warning in the first, conduct stroke in the second - followed by conduct match.

I guess it was the right course of action from the Central Ref, as Davide went too far in arguing against the conduct game decision resulting in a conduct match, but I truly believe that with a better level of side refs, this all mess and disaster could have been avoided.
[16] Stewart Boswell (Aus) br Tom Richards (Eng)
11/4, 11/9, 11/5 (45m)

STEWART ON TOP…

Again a match I didn't have the opportunity to concentrate fully on, sorry boys, but I could see there were some furious rallies on there, in particular in the second, where Tom went and let 9/7, but a few unforced errors here and there, along with some great shots from the Englishman, and a strong and consistent Australian that never gave his opponent a chance to really get comfortable…

"It was maybe not the ideal preparation, as I went home after India, and heard very late I was playing after the withdraw of Karim, but still, I was playing well in India, but Stewart was just too good today…

"Except in the second game, I couldn't settle in the match, and he was able to put the ball away and control the rallies…"



"I just wanted to be steady, I knew that things going to be pretty tough for Tom, as he was told he was playing here really at the last minute. I had a better preparation than he did to the match, and I did my best to play steadily, and force errors out of him.

"I'm not happy with my short game today, when I created the opportunities, I didn't play the shots too well, and they were a bit indecisive. That's something I've got to look at before my next match…"


[12] Alister Walker (Eng) bt Daryl Selby (Eng)
11/4, 11/3, 11/7 (31m)
[6] Thierry Lincou (Fra) bt [Q] Ali Anwar Reda (Egy)
9/11, 11/3, 11/6, 5/2 rtd (42m)

TWO INJURIES ON ADJACENT COURTS…

Alister was up for it, I could tell from the first rallies. Conscious that Daryl was bound to be slightly squashed out, he made the rallies as long as possible, and his opponent life's as hard as possible. It was a hard battle, but at the end of the first I'm told, Daryl slipped and seemed to damage his hip flexors.

Add to that a mental tiredness, and an Ali extremely present physically, very positive and focused, and you have an upset (Ali being 13 and Daryl 11), especially in view of Daryl's excellent results for a few months…

While next court Reda and Thierry were playing an excellent match. The Frenchman not being as sharp as he can be, his attacking game not good enough in front of a young Egyptian, he prudently played from the back, choosing the line of working his opponent physically.

And it worked at times really well, with Reda going for a few too early short shots after particularly long rallies, but at others, the Egyptian mixed his shots close to perfection today.

Relaxed – apparently, he didn't train much recently, due to an injury, "that's when I play my best" told me a smiling Reda – combining accurate crosscourt lobs with feathery drop shots and volley drop shots, twisting and turning Thierry with grace and flair, he was displaying great skills today.

And although the Frenchman got the 3rd to lead 2/1, Reda still pushed and fought for every ball, till he snapped his gluts, let himself fall heavily on the court at 3/2. Match was over, his recurrent injury had flared up.

Between us, I think that Thierry would have probably won it still, but probably in 5, and leaving on there a lot of energy this last tournament of the year demands… He'll be glad with a shorten version…

"He surprised me enormously, as the last time we played, I won easily, but in completely different conditions, in la Réunion, very warm court. Here, the court was cold, and his shots went in really well.

"My attacking game was not as good as his today, and although I wanted to attack, I was forced to stay at the back, and I could never go ahead comfortably enough score wise to relax and let go of the arm. He put me under a lot of pressure, making more winning shots than errors…

"It was an excellent opening match, but on a personal note, I hope he'll have a prompt recovery from what seemed a nasty injury…."



Il m'a terriblement surpris, la dernière fois qu'on a joué, c'était à la Réunion, dans des conditions très différentes. Aujourd'hui, sur un court froid, ses coups sont rentrés, et il m'a bien mis sous pression, faisant globalement plus de points que de fautes…

Mon jeu d'attaque n'était pas aussi bon que le sien aujourd'hui, et je voulais attaquer, mais j'ai été obligé de rester au fond, et je n'étais jamais à l'abri d'une attaque.

C'était un excellent match d'entrée en matière, mais j'espère qu'il se remettra vite de sa blessure qui semble grave…

Paul Selby on Ali v Daryl

This was a match that promised so much with two players playing some of the best squash of their careers but in the end did not come up to that as during the first game with Ali leading 9-4 Daryl appeared to pull up after sliding for a ball with an injury to the top of his leg.

He lost the game and decided to come back for the second and give it a go and see if he could shake it off, regretfully no as the injury was worse than he thought. Unable to lunge on his right leg the next game was a going through the motions but still able to offer an insight to why he has risen to World No. 11 with two or three outrageous winners.

In the end it was too much and Ali put Daryl out of his misery with a winner. This has been a hard end to the year for all the players and maybe we are expecting too much of them to be able to back up tournament after tournament. This has been shown by the number of injuries that have affected many of the players.
"I had Delhi Belly in India and was out of it for a few days. So I was playing OK for a couple game, but I guess that being ill for a few days take a lot of you, and I think I was a bit short physically in the end, and when came the time to step up my game, I found it difficult to do it…

"Yes, it's not easy to play a Aussie, but the English play each other, the French, the Egyptian, we still go on court with the attitude to win, and act like we do against any other player."



[4] David Palmer (Aus) bt Cameron Pilley (Aus)
11/5, 10/12, 3/11, 11/1, 11/3 (54m)



"I started well in the first game, although I was down 3/5, but managed to win the game in one hand, 10/5. In the second, I had a good lead, 6/2 I believe, and I could feel that Cameron was on the verge of letting go, but he got a string of good shots together, then it was point for point, 7/7, 8/8, 9/9, and I let him back on the match. I were not happy, as I missed a good opportunity to take a 2/0 lead.

"In the 3rd, he played really well, his length was excellent, mine was really poor, and he got in front of me. In the 4th like in the 5th, the first points went my way, I got a good start…

"I feel sorry for Cameron, because there were a few players that got easy ish matches, didn't have to play 100%, and I think that Cameron deserves a better draw than playing me first round!

"It was really not easy for me, Cameron is a good mate, we help each other on the tour, we both play for Australia. I didn't play an Australian for a while, I used to do that a lot when Anthony was around, and now, two Aussie in the first quarters!

"This was a tough win, I guess it helped me mentally that I knew I had a day of rest tomorrow. I really pushed myself hard against Ramy last week, and it took an awful lot out of me, I'm finding I'm taking a lot of time to recover.

"I spoke with Shawn today, and he helped me focusing on the fact that if I was losing today, it was a flight home, of course I want to go home, but not after a first round lost. If my game is not good enough, there is no second best….

"It will be a tough match against Stewart, we played in Qatar on a traditional court, and I got away with it, I hope I can do it again on the glass court, where I feel more comfortable.."


[13] Mohamed El Shorbagy (Egy) bt Steve Coppinger (Rsa) 11/4, 11/2, 11/3 (20m)

"It was not only the first time I played Stephen, but also the first time I saw him play ever! So I just chose to play a good solid basic game, mixed with a few attacking shots.

"It was a quick game, which is good to save my energy, and also a good day of rest tomorrow. Overall, happy with my game today…"


[10] Ong Beng Hee (Mas) bt [Q] Aaron Frankcomb (Aus)
11/4, 11/7, 11/6 (31m)

This was a match up between two players who have had mixed fortunes of late, reports Paul Selby.

Aaron who is struggling a bit with his confidence with some results that have not been going his way and Beng Hee who finished in Mumbai on a relative high playing an epic match against Thierry and only narrowly losing having had one match ball.

The match started with the rallies dominated pretty much by Beng Hee with Aaron struggling to find a length and Beng Hee punishing any loose shots. First game to Ong. The second started more promising for Aaron showing the kind of squash that got him into this event in the first place, good length punctuated by good variation and attacking at the right moment.

Beng Hee managed to contain and mid way through the game turn the screw and wear Aaron down like the first game, second game to Ong. Really the third was a repeat of the first with too many mistakes eminating from Aaron's racket and Beng Hee controlling from the Tee with a mountain to climb which would have appeared to hard for Aaron, Beng Hee ran out the winner in three straight games.

[1] Ramy Ashour (Egy) bt Hisham Ashour (Egy)
11/8, 11/5, 11/5 (27m)

Ramy does his duty again

When the draw was revised to pitch Ramy Ashour against his elder brother Hisham, you could hear the groans all the way from Mumbai where the pair had just played each other in the PSA Masters.

It's not a match either enjoys playing, and you could tell in the first two games that it was pretty much a case of "let's get it done with and off."



Not that they weren't trying, far from it. But the rallies were always destined to be short, the attacks frequent and the mistakes that come with that sort of game.

Ramy was in charge for the first two, Hisham came more into it in the third, but much to his own annoyance kept hitting the top of the tin.

"I didn't care so much about the result," he said afterwards, "but I wanted to stay on there longer."

The crowd would have wanted some more too, but for the Ashour brothers this was a chore that had to be done ...

"What was that? I could have played a lot better, but I made a slow start and when I started to get into it in the third I just kept hitting the top of the tin - not the tin, the very top of it!

"He was fast, focused and there every time, he was just better than me today but I should have played better and at least made it last longer.

"But he's my brother, I'll support him through the rest of the tournament now. If he wins this one he'll be world number one which is something we've dreamed of and worked towards for a long time now ..."



"We never did enjoy playing each other in tournaments and this was the same. When in the last game he just hit tins I was grateful for it because he could have come back.

"We started off fast, just like last time, everything happened so fast we didn't feel it and this time was the same, we just wanted the whole thing to be over."


[Q] Joey Barrington (Eng) bt [2] Amr Shabana (Egy)
11/8, 4/2 rtd (16m)

HAMSTRING AGAIN…

You may remember that I told you that Shabana got injured at the end of the second game of his semi against Ramy. At the time, people told me, no, he is fine, just the court slippery caused him the problem.

Yeah right.

Heavily strapped, Shabana tried, but we could see that he was struggling movement wise, and just had to work very hard to push the ball in the back.

At the start of the second, he just stopped, and shook Joey's hand. Another injured player.
[5] Peter Barker (Eng) bt Naif Abureqah (Ksa)
11/6, 11/7, 11/9 (28m)

A workout for Barker

It's never an easy task for the wildcard, or for the player who meets the wildcard in this type of tournament. In this case it was world number 7 versus world number 417, so the outcome was never really in much doubt.

Still, it was a great experience for Naif to come onto the court at the end of the opening ceremony, being greeted by the assembled dignitaries and with a strong local media presence to record proceedings.

In the event he gave Peter a good workout, even led 7/4 in the second, but the Englishman was in no mood to extend himself more than necessary, and quickly closed that lead down on his way to a straight-games win.