Wed 16th, Quarter-Finals
Fram reports, Steve clicks away in Sunset Beach


En Bref #2

Quarter-Finals

[8] Adrian Grant (Eng) bt [15] Aamir Atlas Khan (Pak)
9/11, 11/5, 11/6, 13/11 (62m)
[3] Nick Matthew (Eng) bt [7] Wael El Hindi (Egy)
11/8, 11/3, 11/7 (51m)

[4] David Palmer (Aus) bt [6] Thierry Lincou (Fra)
11/5, 11/8, 5/11, 11/5 (47m)
[1] Ramy Ashour (Egy) bt [13] Mohamed El Shorbagy (Egy)
11/3, 12/10, 11/3 (32m)

English finalist guaranteed as
race for number one continues ...

An first-ever English finalist was guaranteed in Al Khobar tonight as Adrian Grant and Nick Matthew progressed to the semi-finals at the expense of Aamir Atlas Khan and Wael El Hindi. Grant recovered from losing the first game while Matthew kept his opponent in check for most of the match.

The other semi-final will see two Saudi stalwarts compete for a place in the final. David Palmer and Thierry Lincou had shared their previous 18 encounters, but it was the Australian who triumphed this time to reach his fourth successive Saudi semi.

His opponent will be top seed Ramy Ashour, the 2007 runner-up, after the Egyptian beat his compatriot successor as world junior champion, Mohamed El Shorbagy, in a fast-paced three-game encounter.

Ashour and Matthew both have their sights on not only the Saudi title but on the coveted world number one spot too, and whoever does best from now on will become the new number one in January ... but Grant and Palmer will want to have their say too ...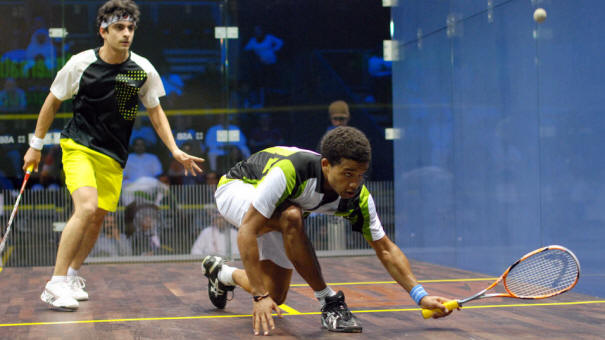 [8] Adrian Grant (Eng) bt [15] Aamir Atlas Khan (Pak)
9/11, 11/5, 11/6, 13/11 (62m)

Grant keeps it tight

Adrian Grant kept up his unbeaten record against Aamir Atlas Khan as he moved into the Saudi semi-finals for the first time.

The Pakistani speed merchant started the better, opening up and converting a 6/3 lead in the first, but the Englishman tightened up his game and controlled the next two games very effectively.

A few unforced errors let Khan ahead in the fourth and he took advantage to open up to 7/4. Grant settled again, and got the better of some determined rallies as he closed the gap, edged ahead at 9/7 and finally took the victory on his third match ball.

"I knew it was going to be tough, he's been having some great results lately.

"This is obviously my best result of the year, I'm in the semis of a platinum event. With Shabana out of the tournament, the draw opened, but you still had to do it….

"Even after losing the first, I was still confident that I would win, I was moving well. At the start of that fourth, I really wanted to get off to a good start, and I was a bit too relaxed, too confident from the first and second game, where I was dominating.

"After that, I buckled down when I saw the gap growing bigger, and thought from now on, I'll stick to that game plan, outstretch myself and stick to my natural game!

"I'm normally pretty good in the tie-breaks, I don't see them as match point, but mentally, I go 0/0, 1/0. I got pretty tense for my first match ball, but after that, I just relaxed, I knew I was getting tired, I was digging in, and when I got to my last match ball, I told myself, that's only one more point to play…"


[3] Nick Matthew (Eng) bt [7] Wael El Hindi (Egy)
11/8, 11/3, 11/7 (51m)

WAEL EXCELLENT IN PATCHES

The Egyptian surprised me tonight, by his intensity in the first and third in particular, with a little drop of energy in the second.

Normally, Wael likes his chats with the ref, that give him a little of breather time, he like breaking up the pace, slows it down and counterattacks very well. But tonight, he was taking Nick physically, hitting the ball very hard, and making the Englishman work very hard….

An excellent game, fluid, fair, no discussion, no stoppage. A lovely match, with suspense and all, as I really thought Wael was going to go for a fourth there….

"What do you mean, he's getting on a bit! If he is, I am too, we are the same age!!! We've been playing each other for a long time now, we've got a lot of respect for each other's game.

"I'm really happy with that 3/0 win, saving legs and mind for tomorrow's game. I've been playing Adrian since we are 10 years old, I'm so happy for him that he reached his first ever platinum event, and I'm looking forward to tomorrow's match already.

"I'm not sure what made it all click this year, I've been working very carefully on my preparation since I was very young. It's true this has been a great year for me, and it's not finished yet. Hopefully, two more matches…

"I've learned a lot over the year, playing Wael. I know that it's best for me to play continuous game instead of stop start, he is much better than me at that! I tried to keep the pace up, whereas at the start of the game, I played a bit too relaxed, I think at a pace that suited him better, especially as it's cold tonight…"



"I enjoyed the whole match…

"A couple of silly errors, good to learn from…

"Nick is very confident at the moment, he is playing very well. Tonight, he was stronger than me, both mentally and physically, and truly deserves to win. I'm wishing him good luck for the rest of the tournament…"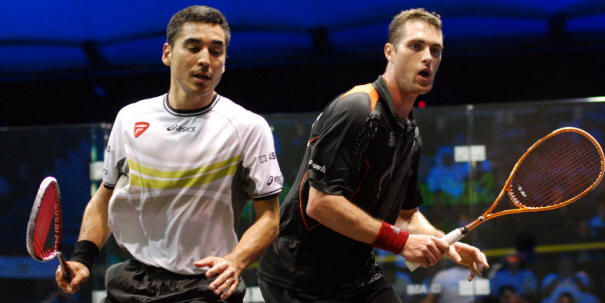 [4] David Palmer (Aus) bt [6] Thierry Lincou (Fra)
11/5, 11/8, 5/11, 11/5 (47m)

Palmer moves ahead
Alister Walker reports

Thierry vs David and the head to head makes it 9 all in previous meetings!

Thierry: 14 months world no. 1, 1 World Open Championship title, 11 times French National Champion, 100 months in the worlds top 10.

David: 4 months world world no. 1, 2 World Open Titles and 4 times British Open Champion, 112 months in the worlds top 10.

The statistics show that these two are amongst the most successful players of their era. Having shared a room with David in Mumbai and Thierry here in Saudi I can tell you that both players are still highly motivated and will both be desperate to win here.

David made his intentions clear from the first rally, hitting the ball at pace to accurate length and finishing the rallies with volleys to the front to take a 6-1 lead. Thierry started to find some length but still was not getting the tall Australian behind him enough and Palmer was extremely severe. Taking the first game comfortably 11-5 it was obvious that if you get infront on this court and attack then you will get the rewards.

Thierry hit the ball with more venom to start the second, it looked like physically he was sharper onto the ball and he took a 3-1 lead. It didn't take much for Palmer to get back to a 5-3 lead by punishing any loose ball on this rewarding court. Thierry started to show signs that he was getting more comfortable and that he could do what he has so often done in the past, reeling the Australian in by keeping it deep and tight and forcing Palmer to try and attack at the wrong time, but he never lead and when he did get back on equal terms he seemed to clip the tin. Palmer took the game 11-8 after some fast and furious rallies at the front where he came out on top. Five tins from Thierry probably made the biggest difference.

Another good start from Titi in the third. He employed the lob effectively at the front rather than try and exchange short shots at the front he took a 4-0 lead. Palmer stuck to his guns hitting punishing volley kills that were making Thierry work extremely hard to stay in the rallies. Palmer lost some momentum as the ball got dead and temperature dropped in the Arabian desert and Lincou's trademark counter drop became more effective. Lincou take the third 11-5.

Palmer reasserted himself at the start of the fourth game, adjusting to the deader ball and taking a 5-0 lead but it was clawed back by some consistent hitting, 5-4. Another big push from Palmer produced some good attacking rallies and Thierry couldn't maintain his form. Palmer deservedly through but another well contested match from two players who many a young player can learn from.

"Happy to win obviously, it was so close yet again.

"We've played 18 times before, 9/9 each, so I hope we'll stay on this result, 10/9 for me!

"I look at Thierry, he had a great career, then a bit of a bad patch, recovered and came up firing again. It's a bit like me, I have a not so good start of the season, and I got better. It's all a question of motivation, he can still do it, and so can I….

"Tonight, I sort of put all my eggs in one basket, I took a bit of a gamble, just coming out firing with all I had, attacking any loose ball, and it worked…

"In the fourth, I gave it everything I had, I got onto to an excellent start, things went my way, and I got on a roll.."





"I'm really disappointed with the match, I took a slow start, I was getting better, but it's so hard to keep coming back at this stage of the competition…

"Although I was expecting it, David still surprised me by playing at an extremely fast and intense pace. And I haven't played at such a pace for a long time, so it took me a little while to get used to the pace, but by the time I was able to handle the tempest, it was too late.

"The knee was a bit wobbly, I lacked stability tonight, yesterday, it was fine, but today, a bit more pressure, I wasn't stable enough on my legs, and I find the tin too many times, especially in the 2nd, 5 I think.

"I'm really disappointed not to have given more, I was not tired at the end, it was just tactically, and on such a true court as this one, in cold condition, if you are not in the right rhythm and accurate, you get outplayed. Which David did tonight really…

"It was a long season, now I'm going home to enjoy Christmas…"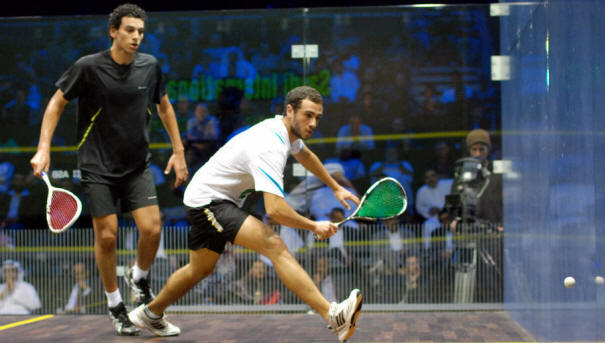 "I've learned a lot from this match.

"Jonah told me that I would feel how different from anybody else Ramy is, that I would enjoy it so much. And he was right!

"I've played all the top 10 now, except for David Palmer, and Ramy is just like nobody else. Ramy is only 22, and if one day, I want to be really really really good in squash, we're bound to play each other more and more, if we stay injury free.

"And I'll have to beat him some day, so now, I've got to go back and think, study the match with Jonah, and see how I can play him next time.

"At the moment, Karim is world number one, and he is Egyptian. And everybody in Egyptian wants the world number 1 to stay an Egyptian. So I'm wishing good luck to Ramy, I really hope he'll make it to the number 1 spot. We are all so proud of him…"



[1] Ramy Ashour (Egy) bt [13] Mohamed El Shorbagy (Egy)
11/3, 12/10, 11/3 (32m)

Ramy still the master
Alister Walker reports

A new era brings new styles and these two definitely have a uniquely attacking Egyptian style. Never an obvious pattern to their play, but there must be a method to the what seems like madness to many of us. A battle between the only players to have won the World Junior Championship title more than once. It would be safe to say that unless there is a drastic change there will be many more battles between these two youngsters to come.

The way the first rally started someone was going to die if the match continued like that. I don't know how many shots were hit in the rally exactly but i am sure it was over 50 and never were there two straight lengths in a row exchanged. All out attack was definitely on the menu with these two on the same court.

Although the rallies were never as long as the opening one again both players continued to 'feel' the ball around the court with lovely holds, flicks changes of pace and swing. Far too much going on far too quickly because in 7 minutes the games over 11-3, Ramy with some outrageous winners. I suspect Shorbagy played the only way he knows how and Ramy was just much better at it in the first.

It would be fair to expect a player to come out and make an adjustment having lost the first game 11-3 but i suspect to Shorbagy that is totally alien to him at this stage and so the shoot out resumed from the very first rally of the second game. Shorbagy did better drawing level at 5 all and then 6 all. The crowd love Ramy here, he's Ziad's boy, and perhaps he was guilty of wanting to entertain the crowd a little too much and opened the court up to Shorbagy who moved explosively and played into some open spaces to keep the score board ticking over for him.

On the other hand Ramy does play to the back at the right time too and his lob is more attacking than most peoples drops.10-7 to Ramy and Shorbagy found his winners, no adjustments even facing three game balls to Ramy he came back shooting forcing the tie break. Not many players can tell you better than me that when it matters Ramy can suddenly snap out of entertainer mode and get points on the board when he needs them, he did it last night at 10 all and he did it again 12-10 to Ramy and a 2-0 lead.

Absolutely outrageous rallies ended with even more outrageous shots from Ramy. No sooner was he 3-0 down and he was 5-3 up continuing to pepper the ball into the front. It was soon 11-3 and the entertainer finished in full flow and finished it in 7 minutes just like the first. It all still seemed chaos to me, and still no closer to finding any method to what these two do. More battles to come from these two and only David and Nick look like they can stop Ramy in this event.

"It felt like a World Junior semi or final! It reminded me of my final against Mosaad, the same excitement, feeling, pace.. I remember looking into his eyes, they were so open with sparkles….

"When I see Mohamed, I see myself, the same hunger, passion, when I was younger. I know that a lot of people would have played him keeping it simple, and straight, but I wanted to play at that pace, I wanted to race with him….

"I enjoyed the match so much, no doubt he is extremely gifted, and that he will become a spectacular player…"