Mon 14th, Round Two, Top Half
Fram reports, Steve clicks away in Sunset Beach
[15] Aamir Atlas Khan (Pak) bt [Q] Joey Barrington (Eng)
11/2, 11/4, 11/8 (30m)
[8] Adrian Grant (Eng) bt [14] Farhan Mehboob (Pak)
8/11, 11/9, 11/7, 11/7 (71m)

[3] Nick Matthew (Eng) bt [9] James Willstrop (Eng)
11/8, 11/8, 4/11, 11/9 (70m)
[7] Wael El Hindi (Egy) bt Jonathan Kemp (Eng)
11/7, 11/9, 11/2 (36m)

Matthew maintains momentum
for number one ...

There were no upsets as the second round of the richest Super Series Platinum event of the year got under way in Al Khobar, as England's Nick Matthew kept his bid to become world number one on the rails.

Matthew extended his winning run over fellow-Yorkshireman James Willstrop to six matches in an intense four-game battle, and now meets Egyptian Wael El Hindi for a place in the semi-finals. To become world number one Matthew must reach the semi-finals and do better than rival Ramy Ashour in this tournament.

Earlier Pakistan's Aamir Atlas Khan proved too quick and nimble for Joey Barrington, while Adrian Grant beat Farhan Mehboob in four games to set up another England-Pakistan clash in the quarter-finals.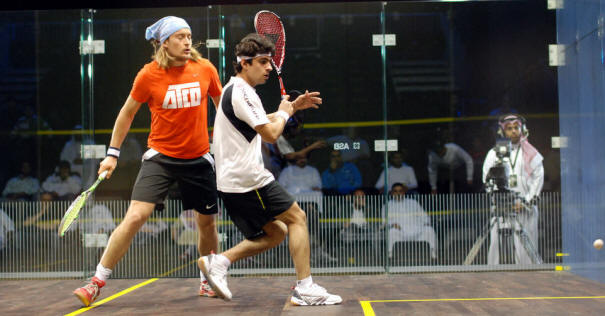 [15] Aamir Atlas Khan (Pak) bt
[Q] Joey Barrington (Eng)
11/2, 11/4, 11/8 (30m)

JOEY GOT CHOPPED…

5/0 in the 1st, 6m game. 8/0 in the 2nd, 7m game.

Needless to say that Joey didn't feel at his ease on those first two games. He just couldn't find a length, had trouble moving to the front, and had his timing off.

He gradually came back into the match, although Aamir took an excellent start yet again in the third, 4/0. But this time Joey was able to lengthen the rallies (that last game was 13m), apply some pressure, good length, excellent counter attacking, and came back close, 7/9. Aamir gave it a last big push, and one match ball was enough…

I know that Aamir was on fire today, and behaved on there with the confidence of a top ten, beating Greg in Qatar gave him wings, but I have to say that in India, Joey had a bad foot injury, and, although he left right after the match, and I couldn't speak with him, I know his game too well to believe that his struggling with his movement came only from Aamir's excellence…. I could be wrong of course, but I think that Joey's injury impaired him immensely tonight…

"I had prepared myself to face Shabana, and measure myself with him, but he got injured, and I got to play Joey. Again today I was very sharp. I saw that Joey couldn't pick up my shots to the front, so I kept firing them there! I thought my shots were very tight tonight….

"I felt very comfortable on the court today, overall, I thought that all my shots, both in front and at the back, were really good. The floor is really good, and I guess beating the world number one gave me a lot of confidence…

"Tomorrow, I hope Inshallah I'll play Farhan tomorrow, it would be good for his ranking, and if it's the case, I can't tell who'll win, because we've been playing many times, and the result is never certain….

"Reaching the quarters will help me for my points, and my ranking will go up…"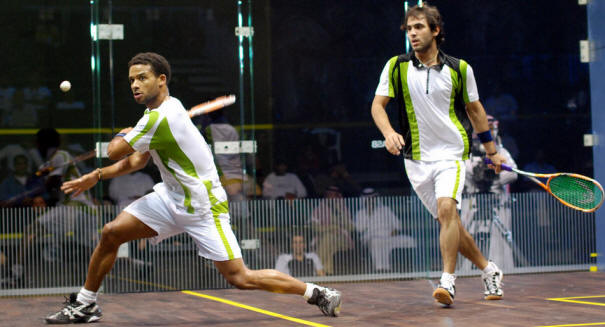 "I played so well in the first game, so confident, and then in the second, I relaxed too much. And the third, that was bad, I was not on the court at all, my mind was wandering… somewhere!!!

"At the end, I played my shots, it's so close ..."



[8] Adrian Grant (Eng) bt [14] Farhan Mehboob (Pak)
8/11, 11/9, 11/7, 11/7

LEFTIES ON COURT

They had two things in common those two tonight. One, they were both lefthanders, which is still unusual, and two, although PSA guidelines are asking the players to have contrasting shirt colours, they both came on court with white shirt, with green (same one) stripes. Only difference, Adrian's had black stripes as well…

Bless….

Adrian was not as focused as he was yesterday. He had a few drifting periods, like at the end of the second, when he leads 9/3 and lets Farhan come back at 9/9, only saved by a tin from his opponent, and finishing the game with a lovely wrong footing. And again when he is up at 7/2, he makes a few unforced errors to let him come back at 5/7.

But an excellent performance from Adrian's perspective, he kept his calm at the crucial points, and that led him to a very deserve victory, playing a great tight game and responding shot per shot to the firing at will from Gifted Farhan...

Now for the Pakistani, same old, same old. Again such a gifted player, as inventive at the front than a Ramy can be, shots are really impossible to read or predict, but he forgets too often that there is a backwall, shame as when he hitting hard, his lengths are often irretrievable…

And again, his mind which wanders in and out of the match. He's got to get it sorted, because that talent needs to be pushed forward, not wasted by mind promenade…. That boy has got the talent to be at minimum top 15, but he's got to sort out his mental focus….

"This won't be my first quarter finals of a platinum event, I played a couple already, but never on a consistent basis. Getting to the quarters normally means the top 8, so everybody is going for that spot… And with Shabana out of the tournament, it's now or never…

"Farhan is so gritty, he's got super hands, he is super talented, and he is going to cause trouble to the top guys very soon. And nowadays, you cannot underestimate anybody around the top 30 40, and make sure that you take day by day.

"When I got a bit out of focus in the match, I tried and not panic, it's only a game after all, it's all a question of momentum and movement. When we started, with fresh legs, he got out firing, and my movement was not fluid enough.

"But then, I was able to step up, get in front of him. My errors came when I let him get in front of me really.

"This is such a true court, probably the best ever glass court I played on, thanks to Ziad and his team. Now tomorrow, a day of rest, looking forward to play my next match, I can only get better from now on…"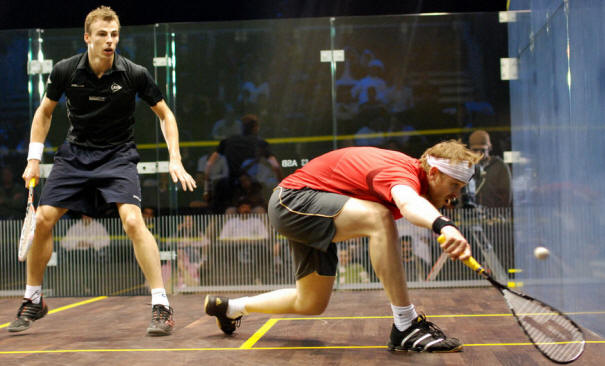 [3] Nick Matthew (Eng) bt [9] James Willstrop (Eng)
11/8, 11/8, 4/11, 11/9 (70m)

It's Nick again
Steve's summary

Nick Matthew improved his winning record against English rival James Willstrop to 15-9 with a sixth consecutive win over his fellow-Yorkshireman, but as in their last meeting in the British Open final, it was a hard-fought affair, to say the least.

From the outset every ball was hit with purpose, every point had to be won the hard way. There were no disputes, no comments, it was all much too intense for that.

Matthew took the first two, pulling away at the end of each, but Willstrop took a good start in the third and Matthew wasn't too inclined to bust a gut to close it down.

Willstrop led for most of the fourth too, 5/2 and 8/4, but Matthew seemed to sense the time was right for another push, as he came back to 7/8.

Willstrop was dismayed to concede a stroke on a ball glued to the wall at the front, held his head as he tinned the next service return, and couldn't believe it when on the next rally the ball dribbled out of the nick in the back corner to give Matthew two match balls.

One was saved as Matthew received a no let he didn't like, then on a rally which upped the tension even more if that was possible, finally Willstrop's drive went out on the side wall and the match was Matthew's.

"The court felt great, no bad bounce, no slipping, hopefully, it will look good on TV too.

"I'm so happy I've got a day of rest tomorrow, it's not physically, more mentally. The standard of squash was so high, that a little drop in concentration, like in the third, and James was all over me like a rash… And in the fourth, I was determined not to have a 5th, because might as well toss a coin…

"James came back really well after his surgery, he is pushing for the top 4, top 5. Against him, you never get an easy point, and a tin is like a present from God, you are so grateful when you get one…

"So I just kept pushing, there were so many emotions, James and I were real professionals out there to handle them that well, it was a clean and fair game.

"It was the worst draw for both of us, and you knew by the number of players that were sitting watching the match that it was going to be fireworks, and a great match. By the way, I was a bit disappointed that a few of them gave James as the winner before the game. I thought I would prove them wrong!!!!

"This was the first time James and I played after our match in the British Open. "A lot of things were written and said, and I'm glad that we had none of that rubbish today, it was a clean and good match, now we can all move on with our lives and look to the future…"



"I'm going to try and be positive, because close to me, there are a lot of people who try and make me having a positive look at things, but recently, I feel that important things haven't been going my way, sometimes it happens in sport…

"Nick played better today, he deserved to win. Today he was stronger than me, his body held it better, everybody knows how great professional Nick is.

"Everybody has been falling like flies, and I'm one of them! The body went about a week ago, and the head is now officially gone!!!! I played my first tournament of the season at the end of July, and haven't stopped since. A lot of thinking has got to be done about the scheduling, The PSA will sort it out, I'm sure, but this is such a ridiculously tough sport, we need to have some resting time and a more balance calendar…

"It was a dog of a draw, especially after all the top players have gone out of the tournament. I'm disappointed, with the standard I play at the moment, to be out in the second round. I don't think I deserve that… I think I need a bit of luck, things to go my way a bit, although in no way shape or form am I saying that luck made Nick win the game!!!

"Anyway, I can only be happy that at such a late stage in the year, with so little rest time recently, I can still compete with Nick at that level, I was very close to coming back at the end and take the fourth…It's encouraging to be able to still reach that standard…

"It's the end of the road, I can wait to do nothing in front of the TV, eating chocolate!!!"



q

NICK IMPRESSES AGAIN

You can only salute the British Open Champion for his performance tonight, although it takes two to make a great match, and that was definitely one…

The first two games were so close, played at a ridiculous pace most of the time, with a few slowing down the pace periods – both lobbing and driving a bit more – but none of the up and down the wall game would could expect from English Boys.

Nick was taking the ball that much quicker than James, and when his opponent was able to outplay him in a rally, like Peter Nicol before him, Nick was finding volley drop shots with the extreme end of the racquet that or found the nick, or put James, who was wining the rally, completely on the back foot again.

Impressive stuff.

The third was all about James, who found both perfect balance between length and short game, and never let Nick a chance to settle in the game. And it looked like we were on for another five setter when in the fourth, James led 4/1, 5/2 and 8/4.

But again, whereas James was dominating and controlling the rallies, Nick would find a lethal counter drop or counter attack that would put James under a tremendous pressure.

A stroke, then a great shot, another stroke on an unlucky "corner" shot that fuses right back at James, then a decision which I found very harsh – stroke, 2 refs against 1, it was in my mind a let, the ball was far too tight for Nick to be able to get a winning shot out of it, but hey, what do I know – and we were back at 8/8. A tin from James, a lucky bounce at the back, and it's 10/8, match ball. We all hold our breaths.

James finds a lovely drop shot nick, one match ball saved. The crowd wants more of it, a bit of support for James. Five lets. A tremendous rally, that goes on, and on, and on, then Nick who attacks, a bit of up and down the wall, and James' lob drive that catches the outside line. Match over.

Nick roars with relief and utter joy. James is whiter than ever. And my heart rejoice for Nick, and shatters like crystal for James.

I'm in the wrong job…
[7] Wael El Hindi (Egy) bt Jonathan Kemp (Eng)
11/7, 11/9, 11/2 (36m)

Wael waltzes into quarters

The final match of the day was always going to be a clash of styles, and while Jon Kemp's fast-paced, winners from anywhere game kept Wael El Hindi honest for the first two games, the Englishman's frustration grew, and after two tough games the Egyptian took advantage to cruise through the third and into the quarters.

"I'm glad I feel strong again, that I'm enjoying my game again. You saw me in India, I was not at my best, I had to go home to Egypt for a few days, and recharge the batteries, and find that hunger to win again…

"In the first round again yesterday, I was not sure of myself, I was a bit weary, not sure which side to go, but tonight, I have found the side I want, and I can't wait to play Nick, I haven't played him for a long time, and I'm glad to have a day off tomorrow…"



"He played really well, a very tight game, and he limited my chances to attack.

"I was ill in India, and today, I just felt so tired today, I guess that winning yesterday took all the energy I had left!!!

"It's really disappointed to play like that, but then again, if I had been told five days ago that I would be playing in the second round here, I would have signed immediately…"