TODAY in Al Khobar: Fri 18th, The Final
Fram reports, Steve clicks away in Sunset Beach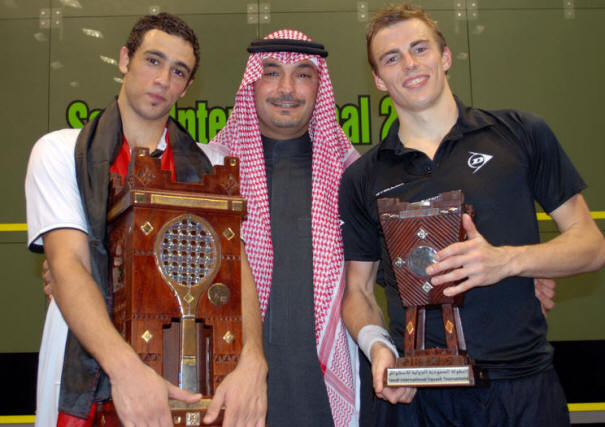 Boys, Boys, Boys

We had a good giggle during this week, as we always do, he is as passionate and original as I can be, and it's always a great chance to work alongside him...

Read more....



"This was an incredible match, and the winner is the World number 1. Any of those two champions deserve to win it, they are just two incredible athletes.

"And of course, thank you to all our sponsors, and in particular his Highness Prince Faisal Bin Fahd Bin Abdulah Al Saud, who has been supporting us for five years now…

Without them, this tournament would have never existed…



[1] Ramy Ashour (Egy) bt [3] Nick Matthew (Eng)
11/7, 7/11, 11/9, 9/11, 11/8 (110m)

The match was not only Ashour's longest of the tournament - but his longest all-time (by almost 20 minutes) on the PSA Tour

DREAM FINAL IT REALLY WAS....

"This match was a mental battle, nothing else, from start to finish", Ramy told me after his match.

To reach him, I had to dig my way straight into a horde of admirers that were surrounding the boy. Thanks Lee for helping me get through, couldn't have not done it without you….

And that is an excellent summary of what happened on there tonight…. The adulation this young 22-year-old ignites with the crowd of all age, gender and nationality is just stupendous.

When he stepped on court tonight, Legend Ramy had on one shoulder trying to please his sponsor and mentor, Ziad Al Turki, promoter of the tournament. Ramy always feels an enormous pressure when he comes here.

Kicked out in the first round in the first two editions, then runner up in 2007, again a step backwards in 2008, quarter finalist.

On the other shoulder, the battle for the top spot. Nothing less than that. On one match, all is decided. Dicey or what???

On his back, he had the back venue, chanting his name, RamyRamy, clapclapclap, RamyRamy, clapclapclap… Difficult not to hear that 3000 people are expecting you to do a miracle, as in perform as if everything was normal in a crazy situation!!!

And grabbing his two legs, his dream. The dream he had since his first step on a court, the dream of his family, of his supporters, of his friends…

Hard to step forward, isn't it. Like I said, no pressure at all tonight on Ramy's….

For Nick, it was simpler. If in India, the crowd was 50/50 for the final, both players getting their fair share of supporters, tonight, none of that, and Nick knows it.

He knows he has to perform the miracle of beating one of the most gifted ever squash players that touched Earth, at the end of a long year, a player that you cannot in any way, shape or form, predict the next shot of, in front of a partial and roaring crowd…

Piece of cake…

Add to that, an enormous night for the Central Ref, Damien Green. His first Central Ref post for a major match – difficult to get a harder baptism of fire…. On the right, Nasser, on the left, Roy.

May the fun begin…

Fact.

First game (Ramy Winner), 3Tins Ramy, 4Tins Nick.
Second game (Nick W), 5T Ramy, 0T Nick
Third game (Ramy W), 3T Ramy, 1T Nick
Fourth game (Nick W), 7T Ramy, 1T Nick
Fifth game (Ramy W), 2T Ramy, 1T Nick

You can see immediately that Nick never put a foot wrong, and that the game fluctuated with Ramy's racquet…

First game is an observation round, with both players (yes, Ramy too bless him), being extremely patient, but Ramy taking a better start, although very nervous – he is basically green - 4/1 then 5/2. Nick starts to get comfortable, and comes back to 6/6. Great effort. But Ramy takes it to the front, Nick chooses to battle at the front of the court, counterdropping, and I guess that at that game, Ramy is that much better.

A great sportsmanship behaviour of Nick at 7/8, where he calls his ball not up, frankly, he was unsighted, a let would probably have been played. And there is a big difference between 8/8 and 9/7.

Ramy pockets the game, the crowd goes mad…

But Nick doesn't care about that loss, he is the first player ever to have won a match against Lee Beachill from 2/0 down after all.

And he digs in, and he puts more weight on the ball, and Ramy, who starts to think, gets behind, on the back foot. Nick is more and more confident with his shots, the crowd is worried. Still Ramy is matching shot for shot. 3/3. 4/4. 5/5. 6/6. 7/7. A few hard contacts from Ramy onto Nick, the Egyptian gets a conduct warning for excessive pushing.

The crowd grumbles…

Under pressure, Ramy makes too many unforced errors, and back we are at 1/1, ball in the centre, 11/7, 7/11.

The third is a classic, with rallies that make you breathless, counterattacks, counterdrops, attacks from so far back, taking the ball earlier and earlier, running, reading each other's game, trying to wrong foot each other.

We are all in need of oxygen masks, honestly. Suddenly, Ramy gets on a roll, and zooms to 8/5. Surely that's enough… Nope, Nick as ever, works, and digs in, and fights for every millimetre of that court. 7/8. Ah, Ramy finds one of his stunning lobs, 10/7 game ball…

The seating scaffolding is vibrating with the chanting. Incredible. An amazing rally at 10/7. Nick saves it. 8/10. Ramy knocks Nick down on his way to the ball, Nick is on the floor.

"You've been warned Mr Ashour, conduct stroke".

Houah. We may have to get an escort to get Damien out of there methinks.. If anything, that Australian has got guts…

Needless to say that Ramy is not happy, but accepts the decision… 9/10.

Three lets will follow, along with an absolutely amazing incredible stunning words in English are missing to describe the rally. We are on the edges of our seats. Let. Well played, guys. And Nick just clips the tin on the let… Ramy up 2/1.

The crowd is now wild….

But that's when Ramy switches off. His mind goes out of the venue, out of the match, all the way out there where only he goes, between the clouds on the left, and the moon on the right, way way out there.

Seven tins later, Nick is pushing for a fifth, 11/9 in the fourth…



The fifth, oh well…It's the third, just more intense, if possible. 1/1. 2/2. 3/3. 4/4.

I'll need a cardiac massage soon.

Suddenly, not sure how, Ramy is up 8/4, but the brain telling him, warning, warning, your dream is about to come true, are you ready for it, can you handle it? Pressure, pressure...

While Nick is as ever, pushing, and pushing, and putting as much pressure on the Egyptian as he knows how…

At 9/6, the crowd breathes at last. Their man is two points away. But the court is so slippery, the players are forced to ask for the court maintenance at every shot. "Trust me, my strength is fitness, I wouldn't ask for an interruption if it was not necessary," states Nick.

8/9. Nick again is coming back, although Ramy is giving everything he has, he runs, he slips, he goes up again, and slips again… They are both on the verge of complete melt down…

But Nick just clips a backhand counter drop. Match ball, 10/8.

In a few shots, Ramy finds a crosscourt backhand kill that Nick cannot get out of that corner. Before the ball rests on the floor, the crowd has erupted. Their man is the winner. Their champion is the World number one.

Nick salutes his brother in arms with the grace of a true champion. He steps down the four steps off the court, to go to his corner. The sadness of that boy is tangible, the despair, the taste of victory still in his mouth, that now bitters his throat. Proud as an Englishman, he swallows his tears, and bravely replies to a Saudi journalist.

His world just collapsed, he is white as sheet, but he carries his head high. He can. He was three points away from the Number one spot. My hat to you Sir.

While Ramy is flying… Flying… Flying…

Note
the winner receives $37,406 and the runner-up $24,581. Shabana won $38,000 for the World Open, but the runner-up got $23,750, less than the combined amount for the Saudi final (Saudi is a $250k 32-man draw, World Open was a $277k 64-man draw)

"Ziad told me before the match, whatever happens, I'm proud of you, and you are my champion.

So tonight, I would like to dedicate this victory and my title to you Ziad, and thank you once again for the support you've been giving me over the years…

"I think we both played well, and to be honest, this is probably the toughest match I ever played. And I think it's good that Nick and I are pushing each other that hard, because we'll keep playing for a long time…

"I was able to relax at the start of each game, but when I got the lead, then I started thinking, and started to get all tense, and didn't go for my shots!

"Tonight, it could have been anybody's, it was the most amazing match ever! But at the end, it was so slippery out there! The sweat was coming out of our bodies, our shirts, our shoes!!! Maybe it was my shoes I don't know, but I kept slipping on there!

"In the beginning, when Nick started to stop and chat, with me, with the refs, that disturbed me a bit, but after a while, I went along with him, started chatting as well, and that actually relaxed me, and helped my game…

"I never wanted to push Nick, I swear. It's just that when I go for the ball, I just cannot stop!!!

"I'm so happy about winning this title, that's something I've been working hard all my life, it was my dream, my brother, my mum, my dad, my coaches, and all the people who have been pushing and supporting me all those years…

"Before anything else, I want to thank God for this title, and my mum, who's been working so hard, Hisham, who has inspired me, and taught me so many things, he's been such a great big brother, my coach Mems, for the hard work he's put me through…



"When I played my last shot, I just didn't realise what happened, it was a bit of a blackout, really. I was only aware of people shouting, and shouting.

So gradually, I started to realise that my dream had become a reality. And it's a bit like my life can start now, I got it over with, like in a video game, game over, you get the big monster out of the way…

My life starts now…"





"The most incredible, most tense match I have seen in a long time!"

"Considering what was at stake, both players played fearlessly and produced squash of the highest quality."

"It's an old cliché, but it was a shame someone had to lose - but tonight Ramy was the one who held up in the final throws. Tough for Nick to take, but he can be proud at being as close as he was.

"2010 is set up to be an incredible year all around and we have the players to elevate the sport to where it deserves."




Where to start…..

We fought hard, really we fought all the way, but there is an immense respect between us too. I think we both played well tonight, and that there was the smallest of margins at the end…

There were a lot of talks about the schedule, and players got injured, but I got the worst of injuries in September, and still came back to contest the world title!

I started the year in January being the runner up in the ToC, and I was world number 12 then. So this has been a fantastic year for me, and I can be proud about my match today, my week, my last three months, my year, about everything!!!!!

Of course, although I guess back in September, I would probably have signed up for a runner up in the Saudi final and second in the world rankings, it's so disappointed when you get so close, honestly with the smallest of margins…

I had Adrian in my corner, he was pushing me hard, but at some point, I had the impression that we were two against two thousand!

Still, I kept imagining everybody back in Sheffield, looking at the match at the club on the big screen, and supporting me, and shouting for me… So I kept on telling myself, come on, push, just push, for them… And that gave me a lot of strength…

All credit to Ramy, he deserves this victory, and the title. Although, we were smiling with Ziad during the trophy ceremony, when he said that he worked all his life to get that title, he is only 22! I really have worked all my life, so I think he should have let me have it then….






2005


Power bt Ricketts


2006
Shabana bt Gaultier

2007


Shabana bt Ashour


2008


Darwish bt Gaultier