TODAY in Al Khobar: Thu 17th, Semi-Finals
Fram reports, Steve clicks away in Sunset Beach
Semi-Finals:

[3] Nick Matthew (Eng) bt [8] Adrian Grant (Eng)
11/3, 3/11, 11/6, 11/7 (61m)

[1] Ramy Ashour (Egy) bt [4] David Palmer (Aus)
11/8, 14/12, 11/3 (38m)

It's another Saudi Dream Final

For the fourth time in five editions the winner of the Saudi International will become the new world number one in January, after Nick Matthew and Ramy Ashour kept alive their bids for two of the top prizes in squash here at Sunset Beach tonight.

First up was Matthew, who prevailed in four games against fellow Englishman Adrian Grant. Struggling to recover from food poisoning, Grant tested the world number four but in the end simply didn't have the energy to finish off the games.

Then it was the turn of crowd favourite Ramy Ashour, against Australian David Palmer who was appearing in his fourth successive Saudi semi-final. Palmer came close to taking each of the first two games, but to the crowd's delight Ashour prevailed in each before taking the third with some ease.


So tomorrow's final will see a new Saudi International champion, and a new World Number One ...

Final is at 19.15 (16.15 GMT)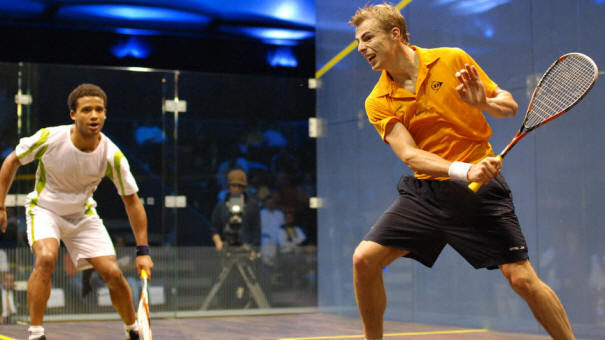 "I thought I was playing very well, especially in view of my circumstances. Nick knew about my food poisoning, but that's life, once you get on court, you are on for a battle, no matter what.

"I know that at some point, I was getting to him, and that the pressure I put him under made him a bit weary, as he started to make uncharacteristic errors.. But I was able to push for three or four rallies, then I would flatline … Then another few rallies… It was a bit of a seesaw ride….

"I'm really happy with my performance really, it is giving a lift, especially as I've been struggling both in my personal life and with my squash.

"I really want to thank Ziad, for all the work he's been doing for us, and also for that great court, it's a joy to play on there."



[3] Nick Matthew (Eng) bt [8] Adrian Grant (Eng)
11/3, 3/11, 11/6, 11/7 (61m)

Matthew on course
Quick summary from Steve

Nick Matthew kept his bid to become world number one on course as he won his all-English encounter with Adrian Grant to advance to the final.

Always in control in the first game, it was somewhat of a surprise when he dropped the second game in similar fashion, as Adrian had been ill overnight and the consensus was that he would do well to challenge Matthew tonight.

That he did though as he levelled with some ease, but perhaps the effort began to tell in the next two games - from 6-all in the third Matthew scored five unanswered points, and Grant saw a 6-3 lead disappear in the fourth as he made a series of unforced errors.

So Matthew becomes the first Englishman to reach the Saudi final, and knows that victory in that final will elevate him to the top spot, whoever he ends up playing ...

"It's not finished yet, still one more match to go tomorrow.

"I knew of his condition, but actually, he played so well! I know, I had the same feel when I played in the British, I had back problems, and couldn't rely on my physical strength, and my squash got better. I think it was the same for Adrian tonight. He had nothing to lose, and he couldn't rely on what makes his strength normally, so his squash was really outstanding tonight.

"It will be fantastic to play Ramy, well, if all goes according to script, no offense or disrespect for David of course. This will be something I'll remind myself of later, whether win or lose. Tonight, I had everything to lose, in a way, whereas tomorrow, I won't, and will enjoy every second of it…

"Now, I'm going to try and relax, but most of all, I'll try and sleep!!!! And for tomorrow, although I'm aware that the crowd will be supporting Ramy, quite rightly, I know I have a whole team of people that support me and will be watching, and I take a lot of strength from that…"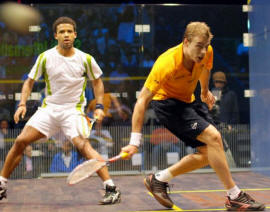 NOT TAKEN FOR GRANT-ED…


Like a lot of us, we didn't predict Adrian to play so well, and to be honest, Nick will be very happy to get away with a 3/1 victory, and he nearly lost that second, Adrian leading 4/2, and hitting the well there, making five unforced errors in that game.

I could see that Nick was starting to suffer. I'm pretty sure he didn't expect Adrian to play such stunning attacking squash, I certainly didn't!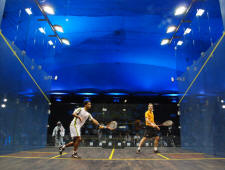 Adrian was outstanding tonight, and Nick showed the great warrior he is, because honestly, it was touch and go for a while there. I would suggest to Adrian what I suggested to Ali, start training on one foot from now on, you will rely a bit less on your physical potential, and play a more fireworks style squash.

Well done to Adrian, to have still come out and fight tonight…. And congratulations to Nick, for yet again, avoid a biiiiiiiiiiiig banana slip…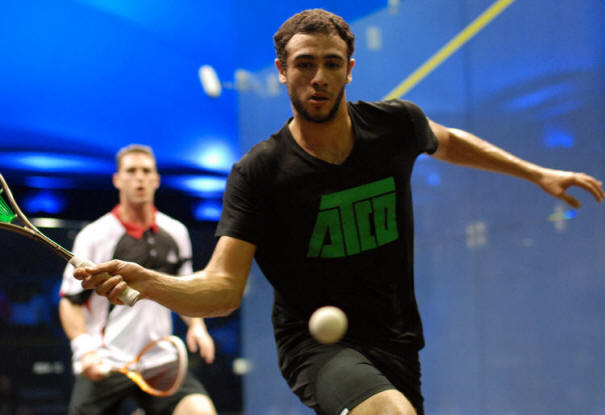 [1] Ramy Ashour (Egy) bt [4] David Palmer (Aus)
11/8, 14/12, 11/3 (38m)

Ramy sets up dream final
Quick summary from Steve

David Palmer can count himself desperately unlucky not to have at least taken a game here tonight, as Ramy Ashour overcame deficits of 7/8 in the first and 7/10 in the second to reach his second Saudi International final, thus setting up a winner-takes-all clash with Nick Matthew tomorrow.

Whereas Mohamed El Shorbagy virtually played into Ashour's hands last night, trying to match him in an open game, Palmer tried to keep it tight, and it worked, giving the Australian ample opportunity to win either of the first games.

That he didn't win either was down to some unforced errors on his part and some brilliant attacking play from the Egyptian top seed, and the packed crowd at Sunset Beach (where did they all come from?) loved every bit of it as Ramy took the second on his first game ball.

The third was over in a flash, and for the fourth time in five editions the Saudi International winner will become world number one at the turn of the year.

Can you wait ?



"I'm very happy with that result, I cannot complain… It's the biggest event, it's the biggest prize money, it's the biggest everything!!!

"I don't want to think about the world number 1 ranking, but I guess I have to start thinking about it now… Tomorrow will be the most important match of my career, and for Nick too. The only thing I can do it do my best…

"At the start of the match, I just forgot to breathe. It happens you know, when you get so stressed that you forget to breathe…

"I could see that David got tired at the end of the match, it's the end of the season. But I made an error, in particular in the second that was an absolutely crucial game. I had in my mind the idea that David was older, and had the experience, and that I was young and probably fitter, and just tried and outrun him. That was not the way to do it. I had to keep on playing my game, my shots, and find a good balance between making him run and going for my shots.

"At the end of that second, I told myself to keep pushing and pushing, and to not think about anything…

"Now, I'm going to eat well, rest, and tomorrow, back to basics. I'll try my best not to think about the match, not to think about the rankings, and my game plan will be, whatever pops into my head, I'll do it.

"And not to think, not to think, not to think…"



"I got better as the season went, but I still didn't do the right amount of work at the start, it was a busy period for us, with the move and all. Now that the pressure has gone down again, and that we are settled down, I play much better, and the last two three tournaments have been good for me….

"At the end of the day, playing a semi of the biggest event of the year cannot be bad, and I can't be disappointed, although this is my 4th semi in 5 events, I don't seem to be able to crack it to get to the final…

"Tactically, I think I played the right game plan, I spoke with Shawn just before the match, and I played the right tactic, but I fell short a bit physically, and in the 3rd, I had the dangerous feeling that I had before, that I was physically so run down that I could have injured myself if I'd pushed any harder….

"Next year, I'll be doing four tournaments at the start of the season – unless new ones are appearing on the calendar – ToC in NY, then Halifax, Richmond and Canary Wharf. That will give me the time to rest a bit before the end of the year in Australia, and then, back to training at the start of the year…

"But I can go home with my head high, I can still play big matches in front of big crowds, and although the audience was supporting Ramy, I know I have a bit of a following here, thanks to Ziad who invited me to come here a few times with Shawn to train people. I enjoy being here a lot, and I'm looking forward to coming back here next year for the World Open."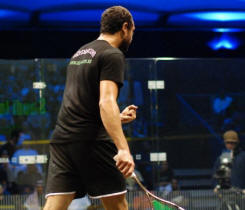 RAMY THE LEGEND


I have to say that if David did what he could tonight – he's been a bit injured since his slipped in an earlier round, plus the end of a long season – stuck to it, pushed Ramy as hard as it was humanly possible, but Ramy, well, Ramy is on a little cloud of confidence, flair and close to genius at the moment.

Another good battle for the Marine, who couldn't transform the five game balls he had in that crucial second, "I would have been under much more pressure" admitted Ramy, "had David taken that game."

The strongest weapon of Ramy today? The lob. He uses it as he would with a winner, and it put his opponent under a pressure I've rarely seen before…