Tue 15th, Round Two, Bottom Half
Fram reports, Steve clicks away in Sunset Beach

[6] Thierry Lincou bt [10] Ong Beng Hee
11/9, 11/2, 11/9 (45m)
[4] David Palmer bt [16] Stewart Boswell
13/11, 11/8, 11/6 (46m)

[13] Mohamed El Shorbagy bt [5] Peter Barker
10/12, 11/9, 11/8, 11/8 (54m)
[1] Ramy Ashour bt [12] Alister Walker
12/10, 11/8, 11/5 (38m)

Shorbagy downs Barker ...

Round two concluded with the bottom half of the draw. First up was a repeat of Thierry Lincou and Ong Beng Hee's meeting in Mumbai, but it was no marathon today as the Frenchman was on top throughout, finishing it off in three.

He'll meet fellow 33-year-old David Palmer for a place in the semi-finals after Palmer also won in straight games, beating fellow Aussie Stewart Boswell.

The quarter-final at the bottom of the draw will be between two double world junior champions - current title holder Mohamed El Shorbagy won a close encounter with Peter Barker while his predecessor Ramy Ashour continued his quest for a first Saudi title and the coveted world number one spot with a sparkling performance against Alister Walker.



En Bref #2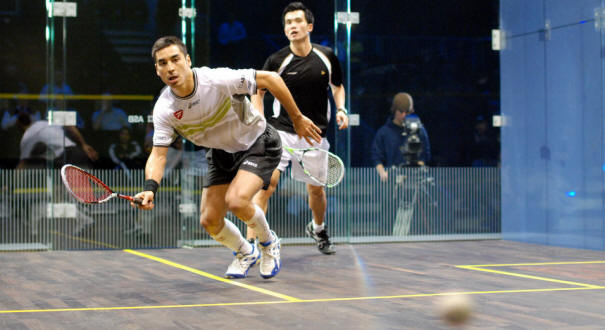 "I really struggled with the conditions today, it was so slow, after yesterday being so fast!

"Thierry played better than last week, and I was mentally tired as well, last week another big event, and this week, I struggled to perform at my best. That's why Thierry is at the place he is, because he plays better the next time, he is just getting better…

"This was not my best performance ever, but also, Thierry just played better."



[6] Thierry Lincou bt [10] Ong Beng Hee
11/9, 11/2, 11/9 (45m)

THIERRY EASIER…

Boy, if last week those two went on and on, on a traditional court in Mumbai, this time, the first game was the crucial one I feel. They battled for 18m for that first game, and it was anybody's winner at 9/9. But a BH maybe a little too eager tins the first point, 10/9 for Thierry, and out of the court the ball goes… The crucial game goes to the Frenchman.

Beng Hee comes out firing at the start of the second, but soon into the game, he gets a big drop of energy. Going for far too much far too soon, he makes a lot of unforced errors, letting Thierry pockets that one, 11/2.

Thierry, with confidence and momentum on his side, shoots at 8/3 in no time. But Beng Hee is no push over, and point by point, counterattacking beautifully, mixing the pace, lobbing, volleying, he claws back to threaten Thierry at 8/8. He'll save a match ball, but Thierry is just too confident today, goes for one more backhand volley drop shot, that hits the spot.

A three love victory for my compatriot, that's not something I had predicted…

"I'm much more comfortable on the glass court to be honest, that's the squash I love, and as Adrian told yesterday, it's a very true court, good length are rewarded on there…

"On the glass court, it's all about accuracy and rhythm, and when I can put the right pace, and not opening the court, I feel much better, and I'm then able to control the rallies…

"Maybe Beng Hee put a bit too much pressure on himself today, we had such a close game last week, he felt that he missed his chance probably, and really wanted to win this time, whereas last time, he was relaxed…

"I really surprise myself, especially when I see other younger players that are not as consistent as David Palmer and I are. I guess it's all about a set of mind, being settled down in your life, David and I are both married with two kids. Also, David and I are both fit, we have some good base from when we were young, and we are really proud to still be competition at that level…"



"Je me sens beaucoup plus à l'aise sur le vitré, c'est le squash que j'aime, comme l'a dit Adrian, it's a true court, et quand tu fais de bonnes longueurs, ça paye…

"Sur le vitré, c'est un jeu de précision, de rythme, et quand j'arrive à imprimer un bon rythme, et à ne pas créer d'ouverture, je me sens mieux et je peux contrôler les échanges…."


[4] David Palmer bt [16] Stewart Boswell
13/11, 11/8, 11/6 (46m)

DAVID ON TOP…

A very strong first game, with Stewart very positive and incisive, good balance between attack and defence, taking David a bit by surprised. A bit of battle there, long rallies, intense pace, and Stewart gets chances, but David, getting better and more accurate as the match advances, volleys his way out of trouble, and clinches the first game.

In the second, a bit of mental drop for Bozza, who gets a harsh telling off from the central ref, maybe when it was not needed, as the Australian was trying to explain what happened – he hit David – but the ref warned him of a pending conduct stroke…

But like he said afterwards, "that's not why I lost the match"….

It was obvious that David was in a hurry to get back to the stables tonight, he volleyed like a pure gazelle – sorry, David, but you do, you are so light and agile – not letting Stewart believing he could come back in the match. He wanted to finish it as quickly as possible, and he did….

Tomorrow's encounter between David, 112 months in the top 10, Thierry, 100, will be a match nobody should miss. Trust me, I won't…

"Two Aussies in a row, that's not easy. I was disappointed with the change of draw of course, but that the game…

"I had a bit of luck at the end of the first, things seemed to go my way a bit. And after that, I was able to control things better.

"I was struggling a bit on the court in the first game, there was a few shadows on the court, that weren't there during the day obviously, probably from the extra lights for the TV coverage this week. I struggled with the depth, and my length was not that good in that first game. But I got better as the match went along…

"It was a 3/0 match, but o so close. After I saw Thierry winning 3/0, I realised that, if I could avoid it of course, the last thing I needed was to be dragged in a long 5 setter.
Any 3/0 win against Bozza, even tough, is a good win.

"For tomorrow, Thierry and I have been around for a few years now, it's all due to a good preparation, a good management from my team, a bit of luck, and turning up to tournament to win. Also, we both have the kind of game that allows us to win even on a bad day…"



"I had a shocking call, 5/1 in the 2nd, where the ref didn't realise that I hit David with the racquet. He wouldn't let me explain, and gave me a conduct warning, which I thought was really harsh. But that's enough whinging…

"I would say it was the same in Qatar a few weeks ago, I had a few opportunities at the end of the game, but he pushed up the pace and did something with the ball first, I was a bit, I don't know… passive…

"And in the third, he was on a roll, and I just couldn't break it…"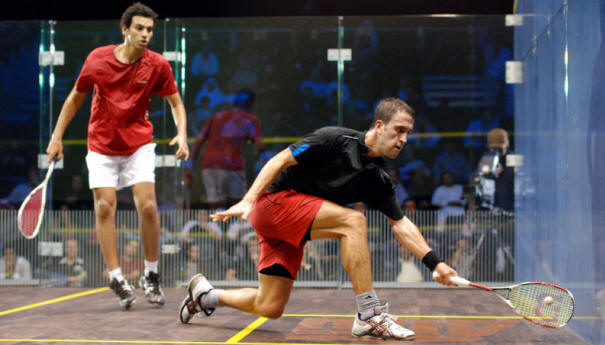 "There wasn't much in it at the end of the second. I think I played the right shots, they just happened to get out of court, and from that moment on, things didn't seem to go my way, the harder I tried, the more it went it's way, the court, the bounces, the refs' calls…

"I'm going to try and not be too negative, this year, I won some four and five stars, semis at the British, at two platinum event, Qatar and India, so I cannot complain. In Hong Kong, I had a pretty low point, but had a pretty good run since.



"It was the first time I played him, he was really good out there tonight.

"I'm going home now, to someone who is very special in my life, who puts a smile on my face, and makes it all worthwhile…"



[13] Mohamed El Shorbagy bt [5] Peter Barker
10/12, 11/9, 11/8, 11/8 (54m)

Shorbagy takes another scalp

The world junior champion continues to progress apace, and tonight he advanced to the quarter-finals with a determined performance against Peter Barker, denying the Englishman a third successive Platinum event last eight appearance.

Barker edged the first, saving one game ball before taking it on extra points, but it was the young Egyptian who was stronger at the end of the next two games, coming from 6/9 down in the second and pulling away from 6-all in the third.

The wind in his sails, Shorbagy raced ahead in the fourth, 8/3 then 10/6, and although Barker saved two match balls it was Shorbagy's night ...

"I'm so happy, it was my mum's birthday yesterday, that's my belated birthday gift for her…

"In the first game, we didn't know how to play each other, so we were ever so patient, and I could feel that he got a lot of confidence after winning the first, like I got a lot of momentum after wining the 2nd…

"I shouldn't have lost the first game, I was up 9/7, but I lost my concentration, and I feel that he probably did the same in the second, he was up 9/6, made errors at crucial times, and seem to lose his focus a bit….

"I knew the third was crucial, I felt it at 6/6, so I decided to give it a big push, I didn't want to get to a 5th game, and I feel that my push made the difference in that game.

"In the 4th I had the momentum, lost a bit of concentration when I was up score wise, but was able to regroup, again, didn't want a 5th. Every time I won about the top guys to get in the quarters, James, Shabana, it was brutal matches, so this time, I'm glad, because I'll be a bit fresher…"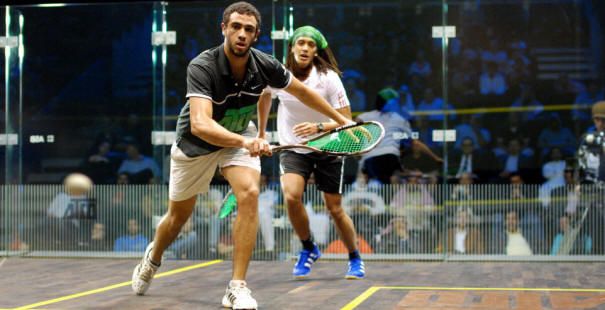 [1] Ramy Ashour bt [12] Alister Walker
12/10, 11/8, 11/5 (38m)

GUTSY ALI, FOCUSED RAMY

This was an excellent match. Two attackers, with flair and guessing talents, both fit and fair, both wanting to win so much…

Ali produced one of his best performance of the year tonight I believe. He was gutsy, he has a lot of answers for Ramy, and took the game right into the Egyptian's territory, not many players on the tour dare to do it, and ever fewer nearly get away with it!

Down 10/5 in the 1st, with Ramy believing his opponent return of serve was down, and walking off court, "what, that's 11, game isn't it?", bless his heart, and Ali, having nothing to lose, that let go of his arm, and climbs back to 10/10.

Ramy finds his magic at the crucial time, not panicking, not slipping out of the match mentally.

That was the turning point of the match.

Truly Ramy impressed me yet again, like he did in his final against Nick last week. He is still in a "mature" game, he plays a "Shabana" style of game at the back, and a stunning Legend Ramy at the front.

Don't believe the score of the third, it was probably the most explosive game of all, with Ali playing as well as can be, but Ramy just finishing the points better.

As Nick said to Ali afterwards, "There are moments where the only thing you can say is, too good".

"My game is getting so much better, isn't it….

I played him last in Hong Kong and it was tough, but tonight, it was even tougher.

"So I was expected a big performance from him, and I know that each time now, it will get harder and harder…

"I was very patient tonight, very focused. The court is perfect, it would have been had I lost too, it's just so nice to play on there. And tonight, most important, I felt light, I was moving well, and because I moved well, I was playing better…

"I cannot analyse what makes the difference, I never think about those things, you know that. I was only concentrating about keeping my ball tight, and about taking it shot by shot. There is still an awful long way to climb, and I just want to take it step by step…"



"If I can take the first one, maybe I can make him doubt a bit…

"I think I played really well, that I played the right shots, but your game has got to be so precise, because if you don't get things to a millimetre accurate, he is so severe, he punishes you and you've got another point on the scoreboard.

"I take my hat to him and Nick, although they've had an awful lot of squash, they are still pushing so hard, with that massive target of number one spot, and I know they'll keep pushing till the end. I really think they'll make the final this week…

"Ah, and a special thanks to Mark Campbell and Caroline Glein. all their hard work has kept me away from any serious injuries.

"The year is now finished…"