When I returned from Kuwait last week the first message of congratulations that I received was from Ziad Al-Turki, the promoter of the Saudi International.

It was typical of Zi to congratulate everyone concerned in securing such an amazing three year deal in Kuwait. He was overjoyed to see the profile of the game rising so dramatically and for the players to be able to receive the sort of Prize Funds he believes they deserve.

In that vein, over the last 48 hours we have put the final touches to a five year deal with the PSA. It is the biggest ever announced and the first ever $1,000,000+ deal.

The Saudi International Squash Tournament will be;
2007: Super Series Platinum
with Elevated Star Status $182,500

2008: Super Series Platinum
with Elevated Star Status $182,500

2009: Super Series Platinum
with Elevated Star Status $182,500

2010: PSA WORLD OPEN
with Elevated Star Status $322,500

2011: Super Series Platinum
with Elevated Star Status $182,500

AN AMAZING TOTAL PRIZE FUND OF
US $1,052,500
After more than 20 years involvement in the professional game I can tell you that there has never been a more dramatic week in the history of PSA.

Ever since we first met I have been impressed by the honesty and self effacement of Ziad Al-Turki - the man.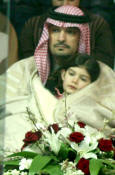 He and his entire family are squash fanatics – he even has a court in his home in Saudi. At the recent Saudi International his delightful wife Anastasia & his young daughter Sharifa sat through every match in the seat next to my commentary position listening to every word and watching every shot. His son Abdul Rahman (Duman) was off with his new found friends & heroes - the players.

Ziad was courtside from the start of play to close. He looked after the Royal guests, the VIPs and the players with equal care & attention to detail. Even his father Sheikh Abdul Rahman Al Turki, the Chairman of the ATCO Group of Companies was there for most sessions.

I did manage to present him with the latest Dunlop racket - so you never know I may have my own practice partner in the future!! Yes, they are a family who love their squash - both as players and aficionados.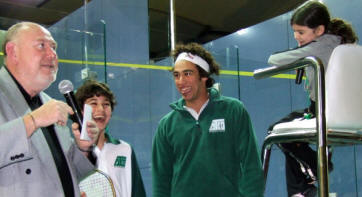 In Ziad I have found a man who shares my passion for the game. This passion, together with his love of Saudi Arabia has been the fuel that has driven this remarkable achievement. It is to his credit that he does this totally without a thought of personal gain – all profits are donated by the tournament to a handicap charity within Saudi Arabia. The Rehabilitation Society of the Eastern Province has been the grateful recipient over the last two tournaments.

He is an international figure who is equally at home in the Middle East as he would be in London, New York or Paris. He is a giant in the commercial world who finds time for his family and his country, and he is very proud of both.

This announcement has raised the bar and I can almost hear Ziad chuckling with delight.

As his Tournament Director I can tell you that he is dedicated to making squash a major sport in every sense of the word. He is looking at improving everything, from the Television Production to the Presentation.



Congratulations Ziad for what you have done for our sport – when they look back on the game of Squash fifty years from now - Ziad Al-Turki of Saudi Arabia will be spoken of with reverence by sports supporters worldwide.





Tournament Director &
PSA World Tour Technical Director
(The Voice of Squash)