En Bref #2
Everything you never knew you needed to know about the Saudi International
ZIAD IN ACTION, AGAIN…

You may guess how busy Ziad Al Turki - Saudi Promoter to who we owe the five editions already event - is on PSA events. Of course he relaxes sometimes, like for example when he is in India, visiting Mumbai and playing a bit of squash.

But that's the tip of the iceberg. Not only he's having important meetings every day, not only as PSA Chairman, not only he's got his own company to take care of, he's got also two of his kids with him, bit of a handful, aren't you Duman and Sharifa – his wife has to stay home in London to look after the youngest girl, but he is keeping an eye on everything.

He hates dirty glass courts, for example, and he made sure that the cleaners were doing it right!

Also, this week, PSA is launching its new Streaming Channel any minute now, and we have Alex and Lee, PSA's CEO and COO here along with Daniel and Dominic from Perform, not forgetting Omar, from PSA, to get it right and offer you the best product available.

Well, Ziad also wants/needs to make sure that everything is in place.

And he didn't hesitate to get behind the wheel, sorry, the camera, to check angles and all.

I know you may smile at all this. But like the top athletes know, like I'm obsessed with, it's all about ATTENTION TO DETAIL…

They said

A "surprising" stroke at 8/7 against James in his last game against Nick. James opens his mouth for the first time of the match…



James:
"Don't do that to me again, this is a crucial time, Ref. Did you see how tight the ball was???

"No way this is a stroke…. I don't practice tight balls for hours for nothing…"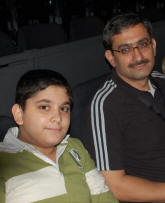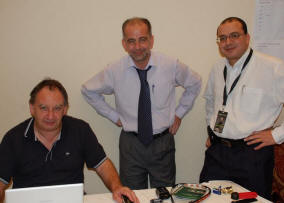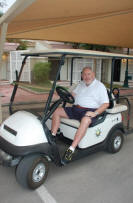 Local ref Waleed and Abdullah Altabash, his son, also a squash player, plus
GET OUT, PLEASE?????

During the match between Adrian and Farhan, the court cleaner was called a few times, not because of a slippery floor – Saudi's tournament has been experimenting a brand new floor for the glass court, that is real success, no slipping, no bad bounce, great stuff – but because of Adrian's tendency to throw himself on the floor to get Farhan's stunning winners.

And on court comes a conscientious cleaner, who starts cleaning, and cleaning, and cleaning. Thirty seconds, and Damien Green, central ref, says the normal, "Thank you".

The man doesn't budge… He is doing his job, and thoroughly, I'm here to tell you.



"Yes, thank you". Nothing. "Thank you!!!!!" Cleaning goes on.

"Guys, push him off," goes Damien with his notorious Australian sense of humour. Ah, now we have a bit of movement. He goes for the door, but as he is standing outside, he notices a stain on the glass door. And off he is cleaning the door again…

One thing is sure, that man loves his job, and does it to perfection. Shame I can't take him home with me !!!!!

En Bref #1
Everything you never knew you needed to know about the Saudi International
BYE INDIA, WELCOME TO SAUDI…

After checking out, I had to go and have a last quick meal next to the swimming pool, in a lovely shade. While Raj and Ritwik were having a meeting with Alex Gough, PSA Boss, in the patio inside, I was letting my mind go and wander…. The vegetation – bougainvilliers trees, don't ask me the name in English, in full bloom – the high trees, some people swimming, some taking a not too hot sun, again, that feeling of peace all around.

At 3pm, went into the Lobby, to meet with David Palmer, who was on the same flight than mine. We made the big mistake to tell Hisham – who is not the most punctual of all players – and Ramy to join the fun, as their flight was 5m before ours.

Of course, they arrived late. Of course, some of the volunteers came to wave them goodbye, asked for souvenir photos, with and without Ramy's impressive trophy.



Off in a large car we went. And Hisham, the whole way, did the show. A non stop mimic of all of us on the tour, accents, expressions, stories. My abs still ache today cause I laughed so much. That boy has got so much talent, I think after his career, he should think about MCeing events, he would be perfect!!!!

The airport was well, a bit of a GI training session. First, you queue to get in the airport. Then you queue about 45m to get to the checking. Then you queue to pass security (mind you, I was the only female, so I had a lane just for me, but waited about 15m for David to go through). Queue to get on the bus – we nearly went on the wrong plane going to Chennai, as two planes were boarding at the same gate!!). And of course, queue to get on the plane.

Still, a nice flight, as David got us extra leg room, plus we had an empty seat between us, great move…

I caught up a bit of sleep on there, and we arrived with only 30m delay in Bahrain, where Ziad was kind enough to take Joey, David and myself in his car, which speeded up the process immensely at the customs, although the system was down, and it took a lot of time for us to finally get through. Poor Ziad, I'm sure he regretted to be such a gentleman, without us, we would have been home about an hour earlier!!!

Arrived about midnight, Adorable Emad was waiting for us with our cabanas keys, and Steve with our restaurant card, and as the food was still available, we had a nice bite before crashing to bed. We don't have internet in the cabanas, which has the advantage to force me to go to bed instead of working till uncanny hours!!!!

BREAKFAST AT THE HOLIDAY CAMP

I have to admit that the first morning here has been perfect. Waking up at 12 Indian time, as in 9.30 here, I was sort of refreshed, although I must admit, slightly KNACKERED!!!

As I'm walking out, I'm meeting with Nick and Peter, also on their way to the restaurant. As we are about to arrive, a golf cart overtakes us, and at the back, lazy Ali and Thierry… They are pros athletes, and they can't get to walk from their cabanas to the food outlet??? Bless….

We take a table, soon joined by Caroline Glain, who will be in charge of my players bodies this week, a French therapist that Greg, Thierry and many players already know and work with, and Kempy, who I must say didn't have the opportunities to place a word, poor him…

And as we start breakfast, we are not in a squash tournament with top athletes anymore, but in a camp somewhere. "I want two porridges", says Nick to the waiter, "you can have mine", says Caroline. "Who wants my toasts", I say, as I'm trying to keep a gluten free diet, five hands rush to the plate I'm passing on the other side of the table. "Whose got jam??", "nobody, they are out of it, but you can have my honey, if you want." "Yoghourt anyone"? "I've got a fruit salad here"…

The table is full, food is warm, and lovely, coffee is in abundance, the waiters don't know what to do to please us, although they often don't understand a word of our different English accents. We are laughing, we are relaxing, we are… happy.

This is going to be such a lovely week, yet again…