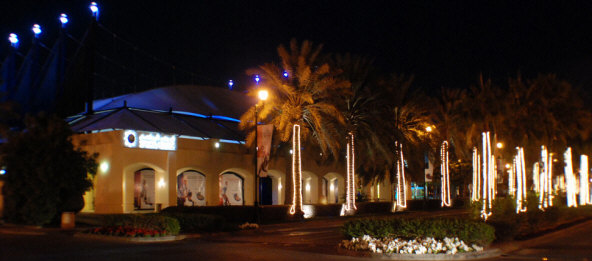 Day FIVE, Thu 18th Dec:
Semi-Finals:

[7] Karim Darwish (Egy) bt [8] Nick Matthew (Eng)
14/12, 11/3, 11/13, 11/6 (71m)

[2] Gregory Gaultier (Fra) bt [5] David Palmer (Aus)
13/11, 15/13, 11/7 (56m)

Darwish & Gaultier in the final

He's been on great form all week, and tonight was no exception as Karim Darwish followed up last night's sensational victory over Amr Shabana with a hard-fought win over Nick Matthew to reach the final of the richest squash event ever.

The second semi saw second seed Gregory Gaultier save game balls in the first two games against David Palmer before completing a straight-games win to take him into his second Saudi International final.

For both finalists it will be their sixth final of the season, but this time there's a cheque for $37,400 awaiting the winner ...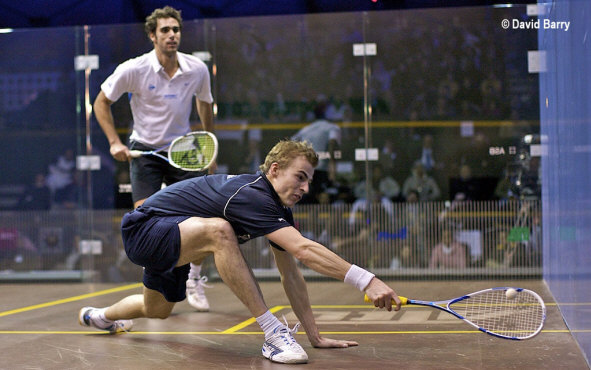 [7] Karim Darwish (Egy) bt [8] Nick Matthew (Eng)
14/12, 11/3, 11/13, 11/6 (71m)

Darwish still on song

Soon-to-be world number one Karim Darwish reached the final of the richest squash event ever with an impressive display against England's Nick Matthew.

Three-quarters os the match was desperately close, with the players matching each other point for point, shot for shot, but it was the Egyptian who managed to be in charge for the spells that really mattered.

Darwish started the better, taking a 7/3 lead in the first, but Matthew steadied and levelled at 7-all. He earned two game balls too, winning a monster rally to go 9/8 and glueing a drive to the wall for 10/8.

A winner off the serve pulled one back for Darwish, then he pinged the ball into Matthew's leg from the back of the court. It didn't appear to unsettle the Englishman, who went on to save two game balls himself, but at 13/12 to Darwish they played a huge, patient rally, and on the first opportunity at the front Matthew tinned a dropshot to fall behind.

Darwish controlled the second completely, pinning Matthew to the back and at the first sniff of an opportunity put away a winning dropshot or crosscourt flick. The crowd were going wild as he doubled his lead - the first game took 24 minutes, the second just eight.

We were back to equality in the third as Matthew steadied, going point for point all the way to 8-all. Darwish chopped in a drop then got a stroke to earn two match balls, but Matthew dug in, taking the next four points ti pull a game back.

A quick start for Darwish in the fourth, 4/1, an equally quick riposte from Matthew to 4-all, but after a couple of patient rallies Darwish darted ahead again, reached match ball again with a deceptive crosscourt flick. Matthew save one, but put a volley into the tin on the next point and Darwish was through to an impressive sixth final of the year, but the next one's the big one ...

"The first game was crucial, I had a couple of chances but couldn't take them, then I slowed up in the second when I had a drop in energy and he caught me out with drops and when I started moving forward he threw in a few good flicks.

"When he made two mistakes at the end of the third to give me that game I remember thinking that they were the first unforced errors he'd made, he was playing that well.

"At 5-all in the fourth I felt I was in with a sniff of a chance, I could feel the momentum changing, but then I lost three quick points and it was back with him.

"Karim fully deserved it today, but I played pretty well. If he'd been just a touch off I could easily have won that.

"After a long time out I've played well in the Worlds, Qatar, and here, it's good to be back in the mix and competing for titles again.

"I'm just going to keep on with my training, play my best and I'll have a look at the rankings towards the summer when hopefully I'll be back up there ..."





"It's a dream come true this week, getting to number one and getting to the final of a $250k event.

"I've played well all week but that was a really tough match, Nick played well and the support of the crowd was great.

"I just need to focus and be ready for the final ... "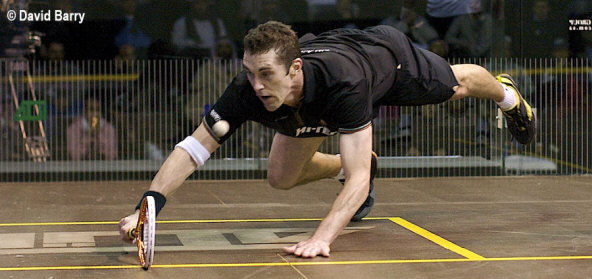 "I was giving him a few years start tonight, and I was just a fraction behind his pace. I had game balls in the first two and couldn't take them and it's always going to be tough from 2/0 down.

"It was nice to hear the crowd chanting my name tonight - I've been here a few times and done some coaching clinics here, I really appreciate all the support

"I gave it my best shot and that's how it goes, it just wasn't my night ..."



[2] Gregory Gaultier (Fra) bt [5] David Palmer (Aus)
13/11, 15/13, 11/7 (56m)

Gaultier grabs a final place

This was another one of those could-have-gone-either-way matches. David Palmer, seeming to thrive in the cool conditions which once again dictated that both players would go short more often than they normally would, matched second seed Gregory Gaultier for two games, and reached ten first in both.

Not that there was anything much between them in either game, but the Frenchman got the better of the scrambling, frantic rallies that featured at the business end of both games. Palmer lost both games on attempted drops that just clipped the in, in between some incredible retrieving, in particular a double-dive at 13-all in the second.

Overcoming a two game deficit is always a difficult task, especially against someone as quick as Gaultier on a cool court. The Frenchman maintained a few points gap throughout the third and in just short of an hour was back in the Saudi final ...


"He's a tough man, big and strong and he has so much experience and gives you no cheap points. You have to fight for each rally and that's what I did tonight.

"I pushed a lot when I was down in the first two, I had to play my best squash at game ball down and luckily I was really fast and found my shots at the right time.

"I know the crowd will support Karim tomorrow, but I'm here to win. I'll go on and focus on my game and my squash, it won't bother me. I beat him 3/0 in the Macau final a couple of weeks ago, but he's playing much better this week so it should be a good match ..."


| | |
| --- | --- |
| | |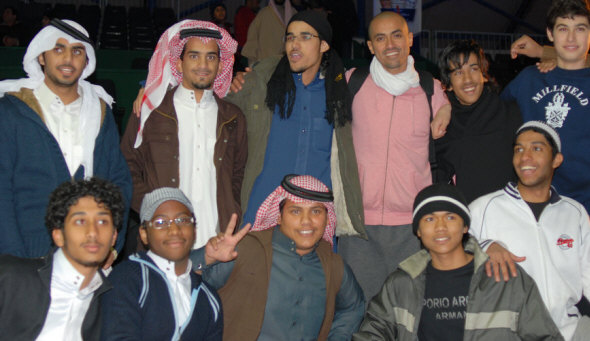 Semi-Final Preview:

If the quarter-finals were as predicted by the seedings, tonight's semi-final lineup would have been tough for anyone to predict, after three upsets in four matches last night at Sunset Beach.

First up is Karim Darwish, whose win over Amr Shabana not only ended his reign as Saudi International champion, but also meant that Darwish will succeed him as world number one in January, ending a 33-month stay at the top for Shabana. Darwish, seeded seven but currently ranked two in the world, meets England's Nick Matthew who created an even bigger upset in beating world champion Ramy Ashour.

They've met three times before with the Egyptian 2-1 ahead including the semi-final of last month's Qatar Classic.

Then it's second seed Gregory Gaultier, runner-up here to Shabana two years ago, looking in good form as he meets Australia's David Palmer, looking to make his first Saudi final. Palmer leads 5-4 in their series, but the Frenchman has won all four encounters since their epic world open final in Cairo two years ago, the most recent meeting being in the Hong Kong quarter-finals last month.
| | |
| --- | --- |
| | |