Round Two, Part Two

After triple Egyptian success last night, it was the turn of England and France to claim two quarter-final places.

James Willstrop won a comfortable enough victory against compatriot Daryl Selby to join Nick Matthew in the last eight. He will face David Palmer, after the Australian won a typically rumbustious battle with Wael El Hindi to deny Egypt a fourth quarter-finalist.

The last two matches saw Frenchmen Gregory Gaultier and Thierry Lincou set up an all-French meeting in the last eight as they beat Cameron Pilley and Lee Beachill respectively.

Round Two, Bottom Half:

[3] James Willstrop (Eng) bt Daryl Selby (Eng)
11/9, 11/6, 11/7 (39m)
[5] David Palmer (Aus) bt [9] Wael El Hindi (Egy)
11/6, 11/7, 3/11, 12/14, 11/2 (80m)
[2] Gregory Gaultier (Fra) bt Cameron Pilley (Aus)
11/4, 5/11, 11/7, 11/5 (52m)
[6] Thierry Lincou (Fra) bt [13] Lee Beachill (Eng)
11/8, 11/3, 11/9 (25m)

Top half reports


Day Three Gallery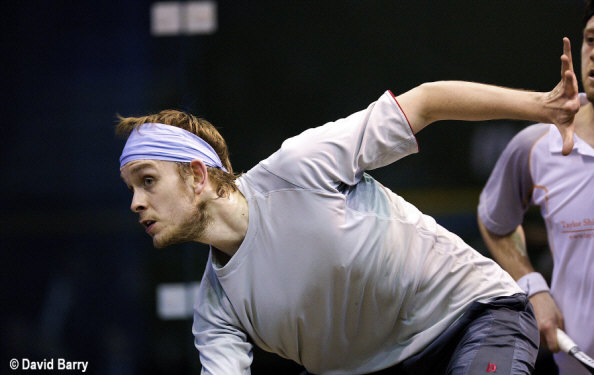 [3] James Willstrop (Eng) bt Daryl Selby (Eng)
11/9, 11/6, 11/7 (39m)

Willstrop worth the wait

Having waited for a long time to get on the glass court, James Willstrop made the most of it as he went through to the quarters with a straight-game win over fellow Englishman Daryl Selby.

Selby started the first two games well, leading both to the midpoint, but once Willstrop found his range he pulled ahead in both. A volley-drop into the tin at 9/8 in the first gave Selby his best opportunity, but Willstrop responded with a winning boast and dropshot to snuff out the danger.

He kept the pressure on to establish leads of 8/5 in the second and third, and there was no danger of him relinquishing either.



"It's been a long wait for both of us, after quick first round wins and a rest day, we both needed to get on court.

"I was a bit slow to start, a little 'rabbit in the headlights', but from mid-game I put some good spurts in, took the first and got a good lead in the second and there was no looking back after that."


"I played really well for two games, then got a poor start to the third.

"As the match went on it got colder and the ball became deader, which suits him more. In the third and fourth I tried to keep the rallies longer but it was difficult.

"He surprised me how strongly he came back, all credit to him for that.

"We were both unsure about how we'd play, we both pulled out of Hong Kong injured so it was a while since we'd had a match in these conditions.

"I was disappointed not to win it in four, having those match balls, but I'm happy with the win and looking forward to another big match with James tomorrow ..."



[5] David Palmer (Aus) bt [9] Wael El Hindi (Egy)
11/6, 11/7, 3/11, 12/14, 11/2 (80m)

Wael comeback in vain

You just knew it couldn't last - there's usually guaranteed drama, thrillsa and spills when these two play, but when David Palmer, playing superbly, took a two-game lead looking well in control, it looked like this could be the exception to the rule.

But a slow start to the Australian in the third let Wael El Hindi back in, and with the vociferous Saudi crowd behind him he worked his way back into the match, getting the better of a tempestuous fourth game where the usual bumps, spills, appeals and counter appeals were much in evidence.

Palmer had two match balls, at 10/9 and 11/10, couldn't convert them and the crowd went wild as El Hindi levelled the match.

His and the crowd's joy was short-lived though as Palmer reasserted control from the outset of the fifth, easing through the decider as he worked the Egyptian - always a willing chaser - from corner to corner before applying the finishing touch.



So the match proved true to past form, in parts at least, and tomorrow Palmer faces James Willstrop, and their matches rarely disappoint ...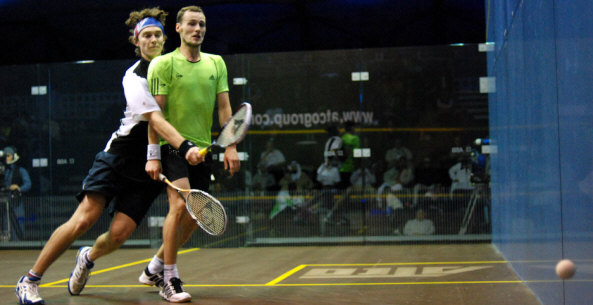 [2] Gregory Gaultier (Fra) bt Cameron Pilley (Aus)
11/4, 5/11, 11/7, 11/5 (52m)

Greg at a gallop

Finalist two years ago, Gregory Gaultier continues to look comfortable in Saudi. The Frenchman looked well in control in the first game, but was taken by surprise by a fast start in the second by Cameron Pilley.

The Australian maintained his form too, keeping Gaultier out of the middle of the court for the entire game as he levelled the match.

Gaultier responded though, and on a cooling court it was the second seed's touch and control that came to the fore again as he fended off an attempted Australian recovery from 7/3 down in the third, then maintained control for the fourth and final game.

"It was tough to follow Wael and David, the played a long, hard match.

"We played at a high pace for the whole match and he maintained the pace for the whole match, I was surprised he didn't break.

"He played very well in the second, and he was very sharp today, especially on this court.

"It's good to get back into the rhythm after a day off, it's good to get back into playing once a day from now on ..."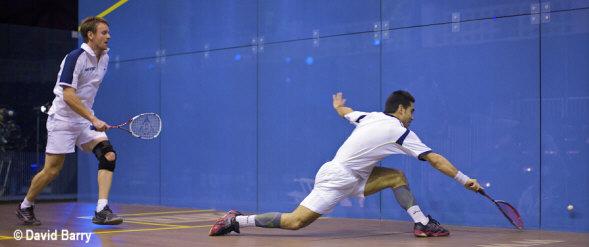 "It's very cold on there now and the ball's quite dead, so it was tough. You're tempted to go short too early and you can get punished for it.

"I went two up, relaxed a bit, but he really went for it in the third, going for his shots. I was behind and had to try to get him moving again and be more patient.

"He's in a difficult situation, a bad knee isn't good for a squash player.

"As usual I'm looking forward to playing Greg. He's been beating me for two years now and he's the second seed, so he's the favourite ..."



[6] Thierry Lincou (Fra) bt [13] Lee Beachill (Eng)
11/8, 11/3, 11/9 (25m)

Lee gives it a go ...

After losing close first game, Lee Beachill looked to be having serious trouble with his recently-operated-on knee, and since the Yorkshireman always says that "if I'm moving well I'm playing well," the omens weren't good as he virtually let the last few points of the second go.

To the surprise of this observer, and hi opponent, Beachill came out firing in the third though, and it was all that Thierry Lincou could do to stay with him. Stay with him he did though, as he does, lengthening the rallies as much as possible.

At 9-all a short kill gave the Frenchman match ball, and after a final long rally, a final tin from the Englishman put a relieved Lincou through to an all-French quarter-final.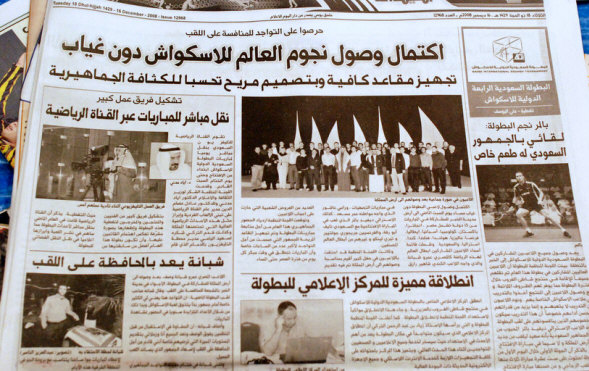 Round Two, Top Half:

Karim Darwish (Egy) bt Alister Walker (Eng)
11/4, 11/4, 11/7 (35m)
Amr Shabana (Egy) bt Borja Golan (Esp)
11/9, 11/6, 2/11, 11/8 (49m)
Nick Matthew (Eng) bt Peter Barker (Eng)
11/7, 11/9, 8/11, 11/13, 15/13 (79m)
Ramy Ashour (Egy) bt Ong Beng Hee (Mas)
14/12, 11/8, 11/8 (35m)

Top Three in Top Half ...

With the seedings based on the October rankings, the world's top three players - all Egyptian - are all in the top half of the draw and are competing for one place in the final.

First up was world number two Karim Darwish, who looked in very good form as he despatches one of yesterday's 'giant-killers' Alister Walker. Then two-time defending champion and world number one Amr Shabana met Borja Golan, the in-form Spaniard. Shabana wasn't on top form for the whole match, and although Golan pushed him close Shabana went through to set up an all-Egyptian quarter-final.

Two Englishmen met next, Nick Matthew and Peter Barker, seeded 8 and 12 but Barker is currently one place ahead in the rankings, at number 9. The match was as close as the rankings suggested as Barker pulled back a two-game deficit before falling 15/13 in a tense decider.

Finally it was world champion Ramy Ashour, runner-up in last year's 'winner takes all' final, against top Malaysian Ong Beng Hee. They provided great entertainment for the crowd in a fast, attacking match, but in the end Ashour had too much firepower and goes through to meet Matthew.


Tomorrow sees the completion of the second round with four bottom-half matches ...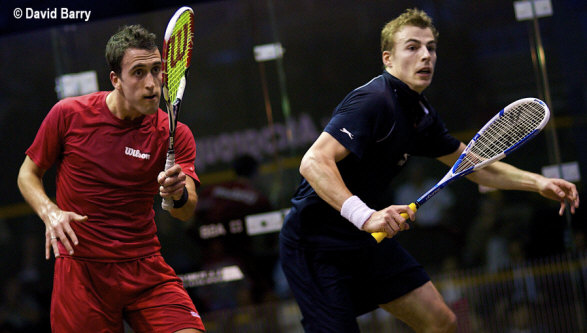 Karim Darwish (Egy) bt Alister Walker (Eng)
11/4, 11/4, 11/7 (35m)

Darwish in control

Underlining his rise to the top echelon of world squash over the last months, Karim Darwish became the first player to reach the quarter-finals with a consummate performance against Alister Walker.

The Egyptian always looked in control, was striking the ball cleanly and moving smoothly, with Walker always having to do more work just to stay in touch.

The Englishman won a monster rally to trail 5/3 in the first, but followed it with three errors and the first game was gone. The second was a similar story, Walker staying in touch up to the middle of the game before Darwish eased away again.

Again in the third, Darwish led all the way, with Walker forced to try riskier shots to ease the pressure he was under. He had a chance to close up to 9/8 but a missed volley drop gave Darwish match ball and he only needed on chance.

Yet to come even close to dropping a game, on this form the world number two will take some beating ...

"I felt pretty comfortable there today, but I knew I had to be focused right from the start, Ali's made great progress in the last year and if you let him in he's very dangerous.

"I was up the whole match, he played a few risky shots which paid off to get close in the third, but I managed to take control again and finish it in three ..."


"For him it was a bit up and down, I tried to be steady and concentrate all the match but at this level that's very difficult.

"In the fourth he started well, then made mistakes and came good again at the end.

"I enjoy every moment on court with him, it can only help me improve my game, and I'm very proud to play him, it's always such a good, fair game with him.

"I'd like to thank John Milton, who I worked with before and I'm doing again now. He's been a big influence in my improvement and he's shown me many new things at this level.

"My goal this year was to reach the top 16 which I'm really pleased to have met. Next aim is the top ten, it will be difficult but it's possible ..."



Amr Shabana (Egy) bt Borja Golan (Esp)
11/9, 11/6, 2/11, 11/8 (49m)

Shabana up, down and up ...

We know that Amr Shabana, world number one and two-time defending champion here, can turn in brilliant and not-so-brilliant performances, and here today we had them all during the course of the match.

Playing solid, basic squash for the most part of two games, Shabana still played enough flicks and drops to stay ahead of Borja Golan, who was himself playing well, but was always playing catchup.

A few errors at the start of the third put Shabana behind, and with Golan continuing to play steady, more Egyptian errors gave him a foothold on the scoreboard.

Then in the fourth we had Shabana first of all playing deep and safe, burying three balls deep into the back corner to establish a 4/1 lead; then he opened up with some lovely short winners to go 7/1; then four tins and Borja came back to 7-all; and finally some more dazzling winners to take the match.

Golan played well, but when Shabana turns it on few can live with him. He knows he'll have to be more consistent in the quarter-finals though ...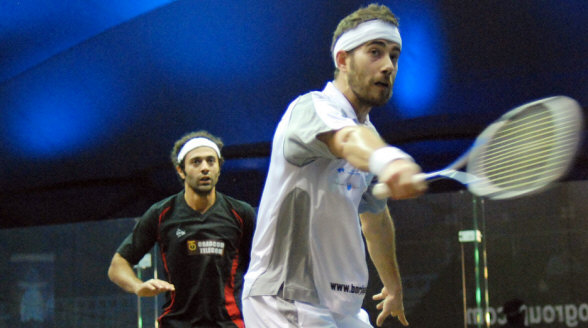 Nick Matthew (Eng) bt Peter Barker (Eng)
11/7, 11/9, 8/11, 11/13, 15/13 (79m)

Nick wins a thriller

Looking well in control after two games, Nick Matthew finally emerged the winner of the longest and closest match of the tournament so far, after a really nervy ending.

Matthew looked to have Peter Barker where he wanted him, but the Essex man came out with attacking intent from the third game, and the match turned. The next three games were close - 8-all in the third and 9-all in the fourth but Barker won them both, saving two match balls in the fourth.

It was turning into a gruelling battle, and the fifth was no different - from 5-all Matthew took a slight advantage, reached 9/8 then 10/8 with a dropshot. One matchball went, and on the next Matthew went for a volley kill and tinned it, much to his own disgust. Barker the same to give Matthew another chance at 12/11 and Matthew went for another and tinned it ... nervous stuff indeed.

They both started playing safer, Barker got his solitary match ball at 13/12 but this time Matthew's volley found the mark, and he took the next two points to finish a match he thought he had won forty minutes earlier ...



"To be honest I feel like I lost that at the moment - at 2-0 I thought I had it won, then missed those match balls ...

"All credit to him for coming back - I played really well for two games and felt in complete control, then he came out attacking in the third and completely changed the game.

"At the end we were both going for shots and missing, it was whoever didn't make the mistake that was going to win so we both went conservative. You get so nervous in situations like that, with your hand shaking it's hard to do anything.

"We're good mates, it's a shame that someone has to lose a match like that, but in this tournament a couple of points makes a lot of difference in prize money, so I'll take it ..."



"He's very confident, not afraid to play his shots and plays the big points well - that's why he's world champion I guess!

"I thought I'd go out and attack and see how it went, rather than try to change my game to contain him, or go all out to win the first then fall away. People think about his shots but forget he's good at the back too and is quite capable of beating you in a length game.

"I was pleased to be able to challenge him for three close games, but he just had too much ammunition for me today ..."



Ramy Ashour (Egy) bt Ong Beng Hee (Mas)
14/12, 11/8, 11/8 (35m)

Ashour has too much Ammo

If the previous match was a typical tough battle, 'English-style' as world junior champ Mohamed El Shorbagy calls it, then this one, featuring Shorbagy's predecessor as junior champ, was typically 'mixed up', with both players unafraid to go short, or to go for one of many shots in their arsenal.

The trouble for Ong Beng Hee was that Ramy Ashour just hade more of those shots. Not that the Malaysian didn't compete well, he was always there or thereabouts, but you sensed it was always the Egyptian who had something extra to pull out of his bag of tricks when needed.

Ong didn't help himself with a couple of unforced errors at 7-all in the third, but even he would admit that making those shots would probably have just delayed the inevitable.

So, the world's top three, Egyptians all, are in the quarters, with Shabana and Darwish meeting again and Ashour set for a date with Matthew, who generally pushes him very close ...