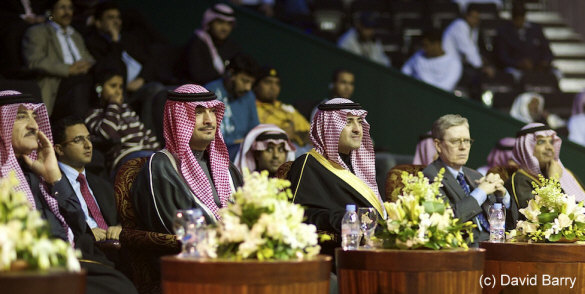 Day ONE, Sun 14th Dec:

Qualifying seems a long time ago - well, October actually - but the richest event of the year - the richest event ever - got under way in Al-Khobar today. Thirteen matches on the inside courts from noon, then three in the evening on the glass court. Thereafter all the action takes place on the glass court until the winner receives the record $37,400 prize on Friday evening.

Round one saw the top eight seeds all progress safely enough, Borja Golan, Alister Walker, Daryl Selby and Cameron Pilley all ousting 9-16 seeds to book their places in the last sixteen.




Opening Reception Video



Photo Galleries

Round One Roundup Daily News

Borja Golan (Esp) bt[15] Laurens Jan Anjema (Ned) 11/8, 11/8, 11/6 (46m)
[7] Karim Darwish (Egy) bt Omar Abdel Aziz (Egy) 11/0, 11/1, 11/5 (21m)
Alister Walker (Eng) bt [14] Adrian Grant (Eng) 11/6, 2/11, 13/11, 11/8 (51m)
[4] Ramy Ashour (Egy) bt Omar Mosaad (Egy) 5/11, 11/8, 11/4, 11/8 (42m)

[10] Ong Beng Hee (Mas) bt Joey Barrington (Eng) 11/9, 11/7, 6/11, 5/11, 11/7 (69m)
[12] Peter Barker (Eng) bt Davide Bianchetti (Ita) 11/5, 9/11, 11/2, 11/7 (58m)
[9] Wael El Hindi (Egy) bt Miguel Angel Rodriguez (Col) 11/5, 11/5, 13/11 (41m)
Daryl Selby (Eng) bt [11] Azlan Iskandar (Mas) 11/6, 11/3, 11/2 (27m)

[8] Nick Matthew (Eng) bt Aamir Atlas Khan (Pak) 7/11, 11/4, 12/10, 11/8 (56m)
[3] James Willstrop (Eng) bt Jonathan Kemp (Eng) 11/6, 11/5, 11/7 (22m)
Cameron Pilley (Aus) bt [16] Olli Tuominen (Fin) 12/10, 11/6, 11/9 (39m)
[13] Lee Beachill (Eng) bt Amr Swelim (Egy) 9/11, 11/7, 11/6, 11/5 (40m)
[6] Thierry Lincou (Fra) bt Mohammed Abbas (Egy) 7/11, 11/9, 11/4, 11/7 (54m)

[2] Gregory Gaultier (Fra) bt Stewart Boswell (Aus) 11/4, 11/7, 4/11, 11/9 (63m)
[5] David Palmer (Aus) bt Naif Abureqah (Ksa) 11/2, 11/5, 11/6 (25m)
[1] Amr Shabana (Egy) bt Shahier Razik (Can) 11/9, 13/11, 11/6 (42m)
Round One Roundup

The action started on court two with a contrasting pair of all-Egyptian clashes.

First up was world number two Karim Darwish taking on his training partner Omar Abdel Aziz. Just back on court after a hamstring injury, Aziz was clearly well off the pace as Darwish took the first 21 points, taking the first two games 11/0, 11/1. At 10/2 in the second Aziz mustered a run of points, but he was never going to trouble Darwish, who eased into round two.

"He's my best friend, but he's been injured and he's so much better and faster than that when he's fit," said Darwish.

World Champion Ramy Ashour was next, facing his team-mate from world junior days Omar Mosaad. Mosaad started strongly, taking the first, and lead in the next three games too, but Ashour forced the pace at the crucial times to emerge the 3/1 winner.



Meanwhile on court one, the first match saw Borja Golan against LJ Anjema. Golan, on a good run of form in the second half of this year, had taken over 100 minutes to beat the Dutchman in Hong Kong, but this time he always led - although never by much - as he took a two-game lead. Anjema fought back from 8/2 down in the third but it was too little too last as the Spaniard went through to the second round in straight games.

"It wasn't easy, but I managed to stay ahead in the first two games rather than him getting his usual fast start," said Golan, "and that seemed to unsettle him."

If that was a technical upset - Anjema was seeded 15 but Golan has since overtaken him in the rankings - then what followed was a real one as Alister Walker won his all-English clash with 14th seed Adrian Grant.

Walker was able to take Grant out of his comfort zone for lone-enough patches to win a tough four-game victory.

"A really good win, I'm very pleased with that, said Walker. "He played his game too well in the second but I managed to keep the pace up and get him out of his comfort zone in the others."

Further English success followed when Peter Barker beat Davide Bianchetti in four, but Joey Barrington went down to defeat against Ong Beng Hee despite a fightback from two games down. The Malaysian recovered his form of the first two games just in time as he took the final few points from 7-all in the decider.

Wael El Hindi made it a hat-trick of Egyptian success - so far - with a straight games win over Miguel Angel Rodriguez. After taking the first two games comfortably he needed to save three games balls in the third before clinching the win.

"I'm glad to be finally playing with no injuries," said El Hindi afterwards. "I can't really get into my game yet but that was a good start and I'm glad to have finished it in three."

Two more Englishmen gave the schedule a boost as James Willstrop and Daryl Selby set up an-all English second round meeting with wins coming in under the half hour.

Jonathan Kemp couldn't make an impression on Willstrop, the third seed, in a typical fast and intense match, while Selby took advantage of an out of sorts Azlan Iskandar to dump out the 11th seed.

As darkness fell, play started on the glass court, but the outside courts were still in action as two further Englishmen progressed. Lee Beachill and Nick Matthew both dropped the first games - to Amr Swelim and Aamir Atlas Khan respectively - but recovered to come through in four games.



French duo of Thierry Lincou and 2006 finalist Gregory Gaultier came off court at virtually the same time, Lincou another player to overcome a first-game loss before overcoming Mohammed Abbas while Gaultier, the second seed, survived a lengthy encounter with Stewart Boswell in the opening match on the glass court.

"It was hard to finad a good pace on the court," said Lincou, one of several players to win today after dropping the first game. "It's so hard to control, it turned into a battle of length and keeping it low."

The last match on the outside courts - for the whole tournament - saw another minor upset as Cameron Pilley despatched 16th seed Olli Tuominen in straight games. Pilley now meets Gaultier for a place in the quarters.



After the opening ceremony Saudi wildcard Naif Abureqah faced the daunting task of taking on David Palmer, celebrating 100 consecutive months in the world's top ten. Naif put up a valiant effort, but the result was never in doubt.



Last on, and hoping to be last off as he has been for the last two years, was Amr Shabana, the world number one, against Shahier Razik. The Canadian number one threatened to level the match with a couple of game balls in the second, but Shabana snuffed out the danger and went on to win in three.

So, twelve seeds, including all the top eight, through to the second round which is split over two days, all played in the evenings on the glass court.