Quarter-Finals:



[8] Nick Matthew (Eng) bt [4] Ramy Ashour (Egy)
11/9, 9/11, 11/3, 11/6 (56m)

[7] Karim Darwish (Egy) bt [1] Amr Shabana (Egy)
6/11, 11/9, 11/5, 11/6 (50m)

[2] Gregory Gaultier (Fra) bt [6] Thierry Lincou (Fra)
11/9, 11/7, 11/5 (50m)

[5] David Palmer (Aus) bt [3] James Willstrop (Eng)
12/10, 11/8, 4/11, 12/10 (50m)


Upsets galore in Saudi Quarters

The top eight seeds made the quarters, but from the first match tonight that's where the predictability stopped as three of the matches saw the lower-seeded player progress to the semi-finals.

First up, Nick Matthew beat world champion Ramy Ashour, and then Karim Darwish not only dethroned Amr Shabana as Saudi International champion, but he almost certainly took his world number one ranking too ...

Gregory Gaultier was in no mood for an upset though, as he beat compatriot Thierry Lincou in straight games.

The last match saw James Willstrop take on David Palmer - the average time of their last five encounters was 92 minutes, but on a cold night in Al Khobar it was Palmer who won a match that, in his own words, turned into a shootout with scrambling rallies and dropshots galore ...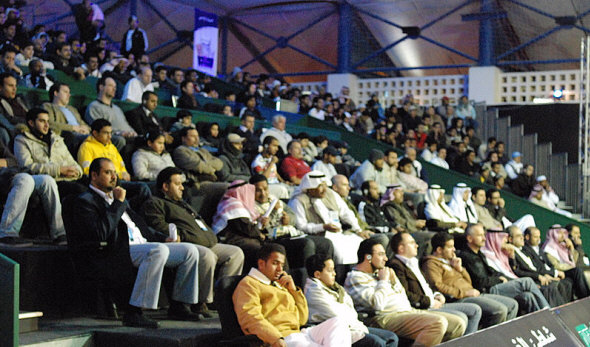 [8] Nick Matthew (Eng) bt [4] Ramy Ashour (Egy)
11/9, 9/11, 11/3, 11/6 (56m)

Nick downs the World Champion

They'd met three times before, and they'd all been close, so the full house (which arrived en masse towards the end of the first game) at Sunset Beach, heavily in favour of Ramy Ashour, were far from guaranteed their wishes in the first match tonight.

And it was the Englishman who started better, pulling out to a 7/4 and 9/5 lead in the first. Looking a little less bouncy than he usually is, Ramy Ashour nevertheless began finding the flicks and drops he thrives on as he pulled back to level. A stroke stopped the rot, from Matthew's point of view, and choosing to serve from the left, he took the game with a crisp volley drop.

Ashour continued to look for opportunities to attack in the second, but the Englishman worked hard to stay with him, which he did, 4-all, 5-all. A couple of loose shots picked off, and a dropshot off the frame took Matthew to 9/6 to quieten the crowd. The silence didn't last long though as the next five points all went the Egyptian way and the match was level.

Still though, Ashour wasn't playing with the bounce and confidence that is his norm, and Matthew took full advantage, getting off to a quick lead in the third which Ashour never threatened to chase down.

The fourth was tighter, but still it was the Englishman in charge. Ashour was volleying as much as ever, but too many found the tin or the middle of the court for strokes and it was soon enough 10/5 to Matthew. On his second opportunity Matthew hit the ball from the back of the court, just clipping Ashour's racket on the way to the front wall for a stroke... a disappointing finish but a great performance and a deserved win for Matthew.



"That's my best win since the layoff, for sure, I'm very pleased with that.

"I had to stay focused and concentrate on every shot, every rally, one bad shot or if you relax 1% he can hit a winner.

"I had to play very good squash to win and I think I did that. It's a pity about the last shot, it's not a nice way to finish, but I think I just about deserved to win tonight.

"I'll enjoy it for an hour, then refocus for tomorrow, another big match, against an Egyptian again, and with another big crowd supporting them ..."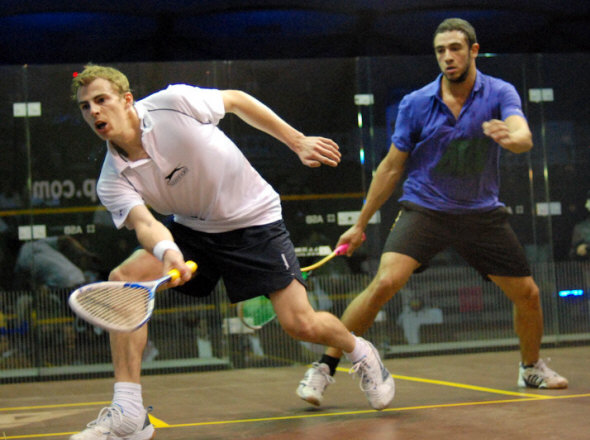 "It's a dream come true - not only to beat Shabana here in Saudi on this court he loves so much, but I worked out the rankings before the match and I knew that making the semis if he didn't was enough to put me at world number one in January.

"It's always hard to play Shabana, he's got so much confidence, so many shots. Everything went for him in the first, but I came better in the second and played really well from then on.

"I wanted to win this match so much, I was so focused in the third and fourth. I was getting to every ball and attacking as well, you can't play Shabana at the back all the time you have to attack too.

"I'm just so pleased to win, but now I need to put that out of my mind and concentrate on the semi-final ..."



[7] Karim Darwish (Egy) bt [1] Amr Shabana (Egy)
6/11, 11/9, 11/5, 11/6 (50m)

Darwish takes
Shabana's Crowns ..

This event has twice seen 'winner takes all' matches where the victor becomes the world number one.

Both of those were finals, won by Jonathon Power in 2005 and Amr Shabana in 2007, but Karim Darwish's victory not only dethrones Shabana as Saudi International champion, but if Karim's calculations are correct, he will take over Shabana's world number one mantle in January come what may - no wonder the world number two was so delighted at the end!



It didn't start too well for him though, as Shabana eased ahead after a tight opening, moving from 5-all to take the first 11/6.

Thereafter though it was Darwish who held the upper hand, playing just as well as he did in the second round, keeping Shabana to the corners to cut down his attacking opportunities, but willing to pounce when the chance arose.

He edged a close second, was always ahead in the third, and come the fourth Shabana was simply having to go for risky shots, and too many didn't come off. From 4-all Shabana hit three tins in a row, and the writing was on the wall.

The end wasn't long in coming, and if Darwish's celebrations were intense, his revelation that he'd worked out the ranking ramifications before the match explained it all ...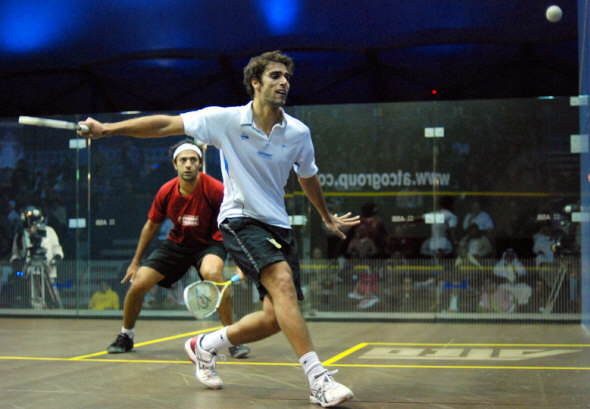 [2] Gregory Gaultier (Fra) bt [6] Thierry Lincou (Fra)
11/9, 11/7, 11/5 (50m)

Greg maintains French balance

Matches between two countrymen are often tetchy affairs, and Gregory Gaultier and Thierry Lincou have had their moments in recent encounters - won mainly by Gaultier.

Lincou, the elder statesman of French squash, had his chances in the first, leading 5/1 and 7/3, but Gaultier got into his stride , levelle at at 7-all - at which point they played eight consecutive lets - before going on to take the lead.

He was always in front after that, and apart from a couple of bumps at the front in the early stages of the second, he kept control in a relatively subdued match.

From 4-all in the third Gaultier's shotmaking ruled the day as he kept his recent good record against Lincou intact and moved into the semis ...

"It was a tough match, Thierry played well in the first, but I started to get used to it, got warmer and warmer and started to find my shots.

"Once I'd won the first it was easier, I was finding a good length and feeling confident.

"Thierry tried to raise his game in the second and third, volleying a lot, but I was always two or three points ahead.

"I'm really pleased with the win, there's always more pressure when you play one of your won countrymen, but we've played each other enough now that we can concentrate on the match, not the national ranking.

"I made a lot of changes to my training over the summer and it's starting to pay off now with my movement, my skills and my shots, I feel good and I just want to play and enjoy it ..."


"I'm more relieved than anything else, it was tough conditions on there, and that's not the best way to play but you just have to do what you need to do.

"He usually has the shots and I have to try to get the edge by wearing him down over four or five games, but on there it's so hard to get the ball going it just came down to a shootout. Whoever went short first probably had an 80% chance of winning the rally and to beat a shot player like James on that type of court is a big bonus.

"In the third I took the pace off the ball, trying to hit higher to get it to the back, but that just gave him opportunities to attack it. In the fourth I was just thinking about closing it out, I really didn't want a fifth.

"I'm happy to get through to the semis and looking forward to coming back for the semis, hoping for a big push at the end of the season ..."



[5] David Palmer (Aus) bt [3] James Willstrop (Eng)
12/10, 11/8, 4/11, 12/10 (50m)

Palmer wins chilly shootout

If you consider that their previous five encounters had averaged 92 minutes each, then this 50-minute match might be considered a disappointment.

However, since it was probably twice as cold as those matches, it seems about right that it should last half as long. The conditions dictated the match, sure enough, with both players looking for the opportunity to go short as soon as possible, leading to many dropshot exchanges, many mad scrambling rallies, and an entertainment factor that was easily the best of the night.



Palmer was always looking for the volley, and seemed to be able to anticipate Willstrop's shots well enough to give him ample practice on those punched volley drops that served him so well. Willstrop's retrieving was awesome, and his control at the front was as good as ever, but Palmer's extra power was probably the telling factor in the overall result.

To say it could have gone either way is an understatement - Willstrop was 9/6 up in the first, 8-all in the second, and 9-all in the fourth, but the Australian won all three games as he extended his winning run over the Englishman to five ...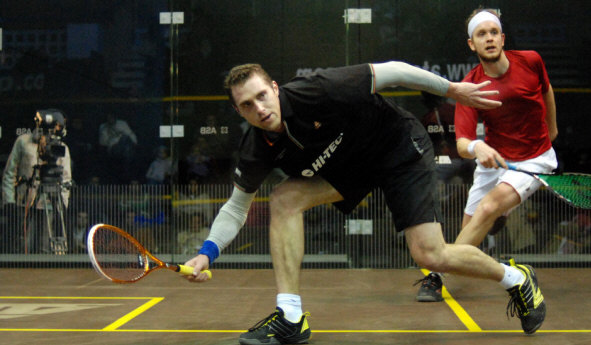 Top Eight go Head to Head
Preview ...

It's a fairly rare occurrence these days to see the top eight seeds all still in at the quarter-final stage, but that's what we have at Sunset Beach this evening, in one of the most mouth-watering lineups of recent times.

First up is world champion Ramy Ashour, who's had injury problems since taking the world title in Manchester, against England's Nick Matthew, who's also had injury problems but generally does well against the Egyptian.

Then double defending champion Amr Shabana meets Karim Darwish. Darwish beat the world number one to claim his first major title in Qatar, Shabana got his revenge in Hong Kong, and now the world's one and two meet again.

When players from the same country meet it's always a little bit special, especially when it's France's Gregory Gaultier and Thierry Lincou. Lincou held the upper hand for a long time, but Gaultier has been in charge of late.

Finally it's a repeat of that epic British Open final as James Willstrop looks to break the jinx that David Palmer seems to hold over him in major tournaments.

A pretty good lineup then, with the top eight seeds and eight of the world's top ten all hoping to pick up that $37,400 cheque on Friday ... stay tuned ...